AFCON
Pinnick teases Nigeria and Benin Republic collaboration for AFCON 2025
'Forget Boko Haram' - Nigeria and Benin Republic to host 2025 AFCON according to Pinnick.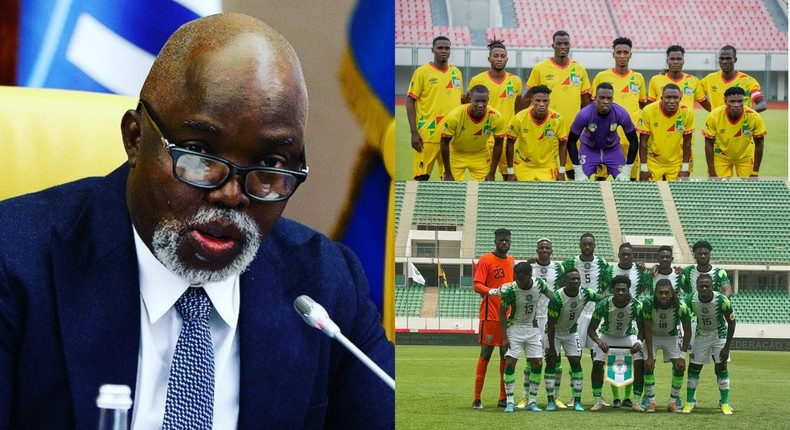 The NFF President revealed that Guinea is no longer certain to host the 2025 AFCON.
According to Pinnick, the Confederation of Africa Football (CAF) is set to withdraw the hosting rights from Guinea and open it up to other countries.
Pinnick on 2025 AFCON
Speaking to journalists in Lagos, Pinnick stated that Nigeria has not hosted an international football tournament since the 2009 FIFA U-17 World Cup and is high time the country does again.
He said, "We are putting a bid together for a co-hosting of the tournament with the Benin Republic.
Pulse Nigeria
"The Minister of Sports has given his endorsement on the bidding.
"It is high time Nigeria hosted an international tournament because there are many advantages attached to hosting such competitions.
"There are many countries bidding for the competition; we are confident of getting the nod from CAF.
Pulse Nigeria
"We are working with the ministry of sports to ensure that Nigeria gets the hosting right."
There have been several concerns about Nigeria's eligibility to host international tournaments safely especially with the security issues.
Nigeria collaborated with Ghana to host the 2000 edition of the AFCON.
Topics:
Recommended articles
'It didn't go well against Nigeria' - Japanese coach laments 2-0 win against Super Falcons
How Williams brothers inspired Athletic to their best LaLiga start in 66 years
Betting odds & Betting tips for English Premier League this weekend
Nottingham Forest takes major decision on Steve Cooper's future
Madrid derby, Sevilla vs Williams brothers & the Reale Super Eagles war
Again, Juventus star escapes robbery attempt