Kanu Nwankwo's wife, Amarachi meets football royalty, David Beckham
Amarachi took to her Instagram to excitedly narrate how she met the former Real Madrid and Manchester United player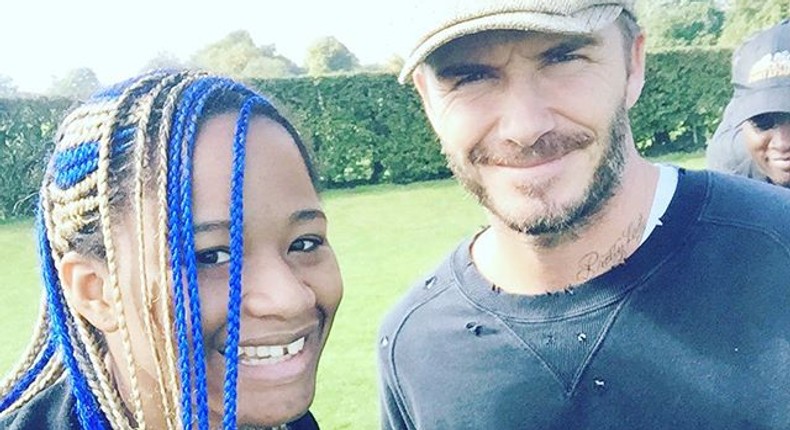 Even as a wife of footballer, Amarachi Kanu was still star-struck when she recently met football royalty, David Beckham.
Wife of former Nigeria international Kanu Nwankwo recently met former England international David Beckham during a youth game in England.
Amarachi took to her Instagram to excitedly narrate how she met the former Real Madrid and Manchester United player.
"And I got to meet the handsome British football legend today in flesh. David Beckham @davidbeckham," she wrote alongside the photo of herself and the former footballer.
"Perks of being a #wag and soccer mum. Tehehehehehe Sometimes you don't realise you are star struck until you meet the person. Lol. Thanks to my darling @sean.kanu Engaging Watford game against Arsenal today."
Amarachi was at the game to watch her son Sean who plays for Watford youth side while Beckham was there to watch one of his sons in action for one of Arsenal's youth team.
Recommended articles
Oliveira hands Roma tight Cagliari win on debut
Goalkeeping gaffe allows Sierra Leone to snatch draw with Ivory Coast
Total Drama AFCON Series: Best highlights of the opening rounds
Rennes thrash sorry Bordeaux as pressure rises on Petkovic
Khazri scores twice as Tunisia bounce back into contention
AFCON2021: Alhaji Kamara's late goal denies Cote d'Ivoire