Arteta denies trying to humiliate Aubameyang in United loss
Aubameyang was taken off in the 79th minute against Manchester United while the Gunners were chasing a goal with the score at 3-2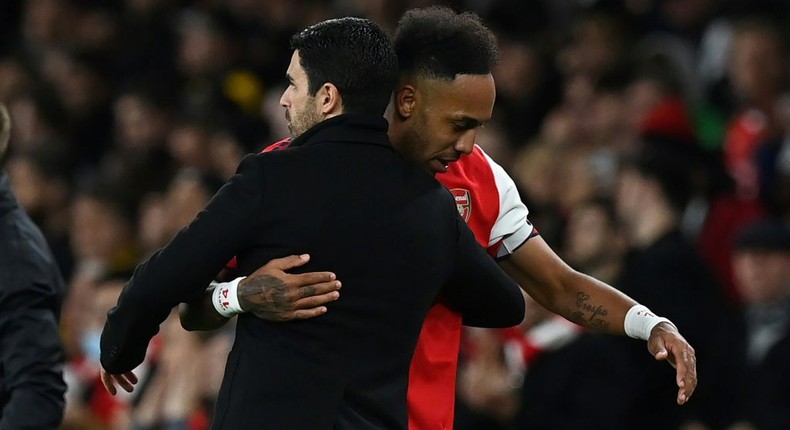 Arsenal manager Mikel Arteta has shot down rumours of a possible rift between him and Arsenal captain Pierre-Emerick Aubameyang.
The Spanish tactician stated that he has a good relationship with the Gabonese striker, despite recently substituting him while chasing a result at Manchester United.
Arteta was speaking in response to recent comments from Thierry Henry that suggested things might not be smooth between the pair. The Arsenal legend had commented that Aubameyang is a symbolic part of the Arsenal squad and that Arteta should not have taken his captain off while being one goal down at Old Trafford on Thursday.
However, the Arsenal coach insisted that there is no rift between the pair as they prepare to take on Everton on Monday.
Arteta said during his pre-match briefing: "I can guarantee you that there is not a rift. You have to respect their opinion (Henry and Shearer's) but what I can tell you is I have the relationship I want with him. When I make decisions with 15, 20, 30 minutes left, or in the line-up at the start, it is done with one intention and that is to get the best out of the team."
The Arsenal manager also clarified that he did not set out to humiliate the forward with the substitution at Old Trafford, stressing that Aubameyang has it better than those left out of the matchday squad.
"That is the last word I would use with my players because if that's humiliation, imagine what it's like for the ones left out of the team," Arteta explained.
However, the former Arsenal and Everton midfielder stated his concerns that the 32-year-old striker has not been amongst the goals lately but noted that he has tried to contribute to the team in other areas.
AFP
Arteta said: "Obviously he's been contributing to games in different ways. Unfortunately he has not scored as many as you would expect in terms of goals."
"You always are concerned when your main striker is not scoring goals but he's trying his hardest and he's aware of how much we need him in the team to score the goals. At the moment they are not coming but the rest of the things that we ask him to do [are]. He's trying to do his best," the Arsenal manager concluded.
Aubameyang has failed to score in his last five Premier League matches despite Arsenal largely picking up positive results. Losses to Liverpool and Manchester United have been the only blots in a 12-game period since the Gunners' early-season wobble.
Topics:
Recommended articles
Everton target Pereira defends record amid fan unrest
Hodgson confident of pulling off another great escape at Watford
Wolves sign South Korea's Hwang Hee-chan on permanent deal
Neymar Jr meets hip-hop icon Kanye West in Paris [Photos]
Console Wars: Call Of Duty to release three more games on PlayStation despite Xbox's purchase.
Mancini 'curious to see' what recalled Balotelli can offer