SPORTS GIST
Barcelona star Memphis Depay meets King Otumfuo Osei Tutu in Ghana [Photos]
'Everything makes sense now' - Depay understands his special Ghanaian roots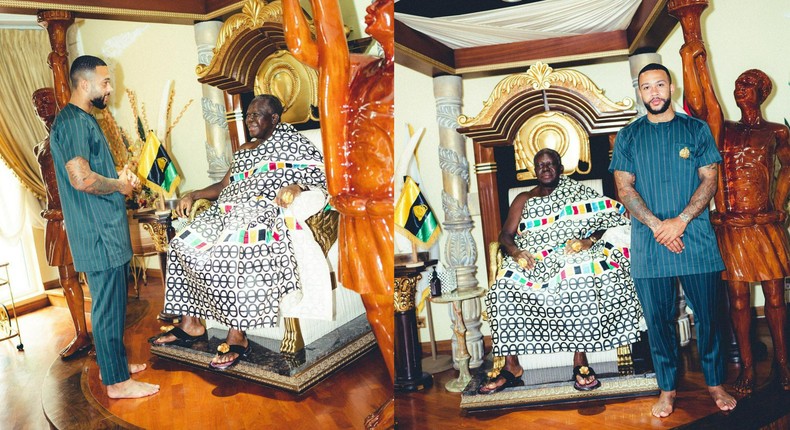 Barcelona star Memphis Depay had a meeting with King Otumfuo Osei Tutu in Ghana.
Depay was given a warm welcome when he arrived and has since been seen playing football with kids on the street.
Depay meets Ghanaian King
Depay took to his official Instagram account to detail his meeting with the Ghanaian King.
According to Depay, the Ghanaian King explained that he knew hos grandfather before travelling to Europe and they were best friends.
Pulse Nigeria
The message by Depay said, "Meeting King Otumfuo Osei Tutu II was very special for me.
"The words he spoke to me made me realize who I am and everything makes sense now.
"He told me how my grandfather was he's best friend before he passed away and how he was known for he's extravagant way of dressing, he was the first person he saw wearing a bow tie.
Pulse Nigeria
"I nearly lost my grandson but he's back now and there for you belong here.
Those words of the King to me will travel with me and will change many things in my life. #proudashanti 🇬🇭
More from category
France recovers from painful Falconets defeat, revives dream vs Canada

How Aribo reacted to his historic first Premier League goal for Southampton

Manchester United, Bayern and other teams that most likely spoilt your ticket over the weekend
Recommended articles
France recovers from painful Falconets defeat, revives dream vs Canada
How Aribo reacted to his historic first Premier League goal for Southampton
Manchester United, Bayern and other teams that most likely spoilt your ticket over the weekend
Report: Everton reject Chelsea's £40million bid for attacker
Ashleigh Plumptre back in action as Leicester City beat Southampton [Photos]
When and where to watch Nigeria's Falconets final group game against Canada