'I didn't marry an ugly man' - Wife blasts FIFA 23 for making her husband ugly
The beautiful woman couldn't believe her eyes after seeing a picture of her husband in the latest edition of the game.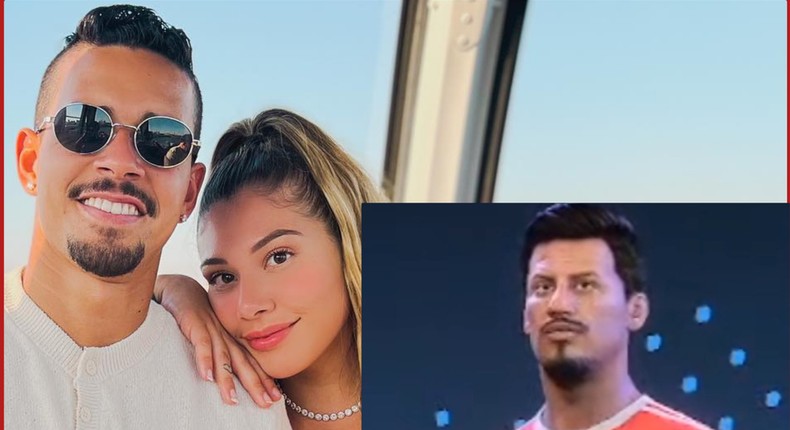 The wife of Brazilian defender Lucas Verissimo has been left angry after seeing her husband on FIFA 23.
Amanda Verissimo blasted the makers of the game for turning her husband into an 'ugly man'.
The player's wife took to her social media account to make her feelings known while letting the makers know she didn't marry an 'ugly man'.
Pulse Nigeria
She quoted a fan who had sympathised with her with a picture of the Benfica forward.
"For the love of god, i don't know whether to cry or laugh with Lucas Verissimo in FIFA 23," the Twitter user, Daniela Batista, posted.
Verissimo's brief
The 27-year-old is a Brazilian defender who plays for Portuguese giant, Benfica.
Pulse Nigeria
Verissimo is a new signing at Benfica, having joined the club last winter from Brazilian side Santos.
He has already played for his country last year during a World Cup qualifier against Peru. Brazil won 2-0 in that game back in September.
More from category
Qatar 2022: Holders France qualify, Lewy fires Saudi back to earth, & Messi's Argentina is back

Magical Messi rescues Argentina from embarrassing group stage exit

'THE G.O.A.T' - Reactions as Messi magic inspires Argentina to 2-0 win against Mexico
Recommended articles
Qatar 2022: Betting tips and odds for Croatia vs Canada
Qatar 2022: Holders France qualify, Lewy fires Saudi back to earth, & Messi's Argentina is back
Magical Messi rescues Argentina from embarrassing group stage exit
'THE G.O.A.T' - Reactions as Messi magic inspires Argentina to 2-0 win against Mexico
FIFA World Cup 2022: All results, fixtures, scores, live standings
Argentina vs Mexico Live
'Mbappe is special' - Reactions as France defeats Denmark, advance to knockout round
Qatar 2022: Mbappe matches Zidane and Messi as France become the first team to reach the round of 16
France vs Denmark Live