Barcelona superstar Lionel Messi and Liverpool forward Mohamed Salah faced off in a hilarious advert by Pepsi.
Both Messi and Salah are regarded among the best players in world football, and the latest advert shows the two players trading their accuracy skills.
Over the years, football stars with Pepsi endorsements such as David Beckham, Roberto Carlos, and Carli Lloyd have come together for several campaigns.
Messi who initially posted a short clip of the advert on his Instagram account has also been an integral part of the Pepsi campaign for several years.
This time Salah and Messi, combined forces at a petrol station fridge to compete for a single Pepsi drink trading their skills.
Liverpool and Egypt forward Salah took to his official Twitter account to post a short video clip of himself along with Messi with a caption, "#FORTHELOVEOFIT @pepsi" 
In the video which lasted for 30 seconds, both Messi and Salah both arrived a certain filling station which is assumed to be in a desert area.
Just in front of them, there is just one Pepsi left and the two players show of their skills trying to get the drink.
Both Messi and Salah who are left-footed canceled each other out in their attempts to get the only Pepsi.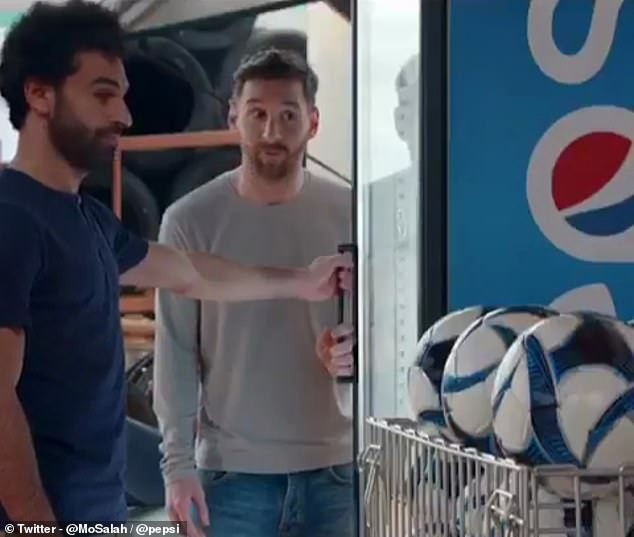 Salah previously showed off his accuracy skills in a clip on his Instagram account was able to kick the ball through the headlight sockets of a car and also through moving tires.
In their bid to get the prize another stranger drinks the Pepsi despite the efforts of Salah and Messi were all smiles.
Both players are expected to be leaders for Barcelona and Liverpool as they aim to claim the UEFA Champions League.