Jose Mourinho blames players for defeat
Mourinho has launched a scathing attack on his players, accusing them of not yielding to his tactics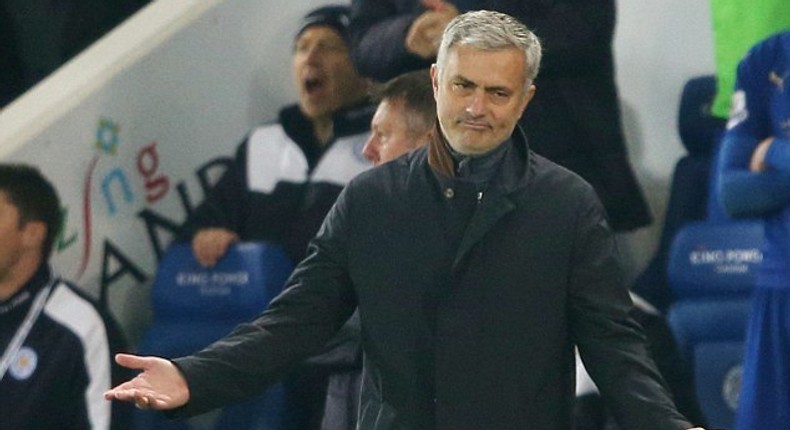 Jamie Vardy and Riyad Mahrez scored before Loic Remy grabbed a late goal as Leicester City grabbed all three points which take them to the top of the Premier League table.
After the game Mourinho launched a scathing attack on his players, accusing them of not yielding to his tactics.
"I feel my work was betrayed," Mourinho said.
"We conceded two goals that are unacceptable for me.
"I know that one of my best qualities is to read the game for my players, to read the opponent, to identify the threat of the opponent.
"Vardy went inbetween two central defenders, Mahrez one-on-one in the box but I want two, I want a midfielder to close his best foot. Our two goals are very difficult to accept.
"I worked four days in this match. I prepared everything related to the opponents. I identify four movements where they score almost every goal.
"My players, they got all that information in training in the last three days. You can ask them. I know they are honest guys, they will tell you what I am saying is true. In four-type situations, we concede the first and the second goal."
Chelsea are 16th on the Premier League table with 15 points, just one off the relegation place.
Mourinho however refused that Chelsea have been drawn into the relegation battle.
"I accept we are in the relegation zone but not a battle. We look to the table, we are there, that is something very obvious," he said.
Watch Jose Mourinho interview, below:
More from category
How Arsenal can still qualify for the Champions League

Controversial AFCON referee Janny Sikazwe to officiate CAF final in Uyo

Pulse Sports NPFL Team of the Week
Recommended articles
How Arsenal can still qualify for the Champions League
Controversial AFCON referee Janny Sikazwe to officiate CAF final in Uyo
Pulse Sports NPFL Team of the Week
'Has always been unstoppable'- FIFA praise for Nigeria and Barcelona star
PSG or Real Madrid: Kylian Mbappe poised for Ultimate decision
Super Eagles legend Jay-Jay Okocha reunites with Ronaldinho