Super Eagles legend winning bigger, better trophies now more than ever
Kanu Nwankwo is still pursuing more trophies even after retiring from football with the Kanu Heart Foundation.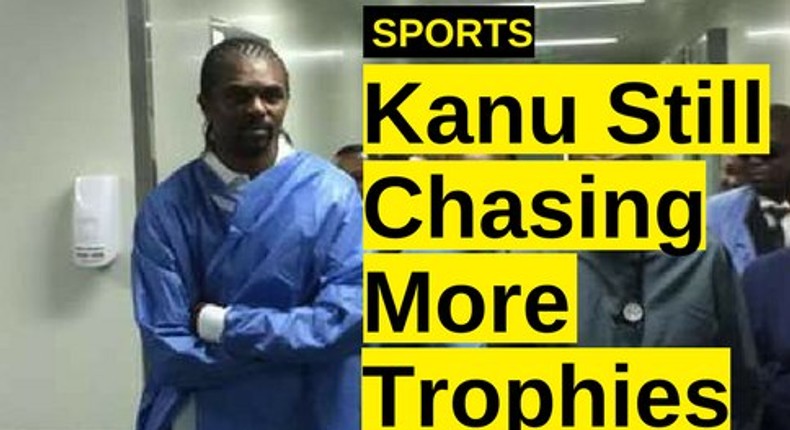 Super Eagles great Kanu Nwankwo has saved thousands of lives through his Kanu Heart Foundation which he founded in 2000.
Kanu set up the Kanu Heart Foundation after he survived a heart defect which had threatened to cut short his brightening career at a time.
In 1996, the then talented youngster was on the verge of dominating world football before tragedy struck. He had won the Dutch League and Champions League with Ajax in 1995; he won the league again the following year but lost the Champions League final to Juventus.
It was however in the summer of 1996, that Nwankwo had arguably his finest moment in his illustrious career, leading Nigeria to the gold medal in football event of the 1996 Summer Olympic Games in Atlanta.
A big move to European giants Inter Milan was next but it was that moment that tragedy struck. Kanu was diagnosed with a heart defect during a medical check-up at Inter Milan.
What happened next is well documented. He underwent the heart surgery successfully in Cleveland Hospital, Ohio, USA before returning to football to still amass successes with Arsenal and Portsmouth.
The whole heart defect ordeal left an incredible print in Kanu's life, a print that marked the founding of his Kanu Heart Foundation.
17 years after the founding of the foundation, it has assisted 538 heart operations in England, India, Nigeria and Israel.
''We have a lot of people who are suffering and who have a lot of issues and if we have the fame and we have the money, we are supposed to go back and make sure we help others,'' Kanu told BBC as part of the 'Where Are They Now' series.
For Nwankwo, his foundation presents an opportunity to him to win bigger and more important trophies than the ones he won in active football. The retired Nigerian football star has big ambitions to help Africans.
He has plans to build a heart hospital in Abuja and then more across the Africa in a bid to help tackle the problem of cardiac-related issues in the under-developed continent.
''My dream is to build a hospital in Nigeria and four other countries in Africa. The funds have been the issue but if we are able to get them and can build, it's going to help a lot. Right now we are taking the kids to India and it costs a lot. Flight, accommodation and a guardian as well, so the money we use back home threat three or four kids, we use it for one. So it's hurting us and we are trying to see if we can really do something about it by building a hospital for less privileged kids with heart problems.''
At the age of two, Enitan Adesola received treatment for a hole in the heart and her parents got to know about Kanu Heart Foundation in 2000 through Larry Izamoje's programme on radio.
The now 18-year-old was one of the first two beneficiaries of the Kanu Heart Foundation outreach as she was flown to England to have her surgery.
''First of all, I have to thank him very much for taking a big decision to help me because it's really a strong decision he made.'' the now University of Lagos undergraduate told BBC.
''You can't just not know someone and try to help that person. He's been a wonderful person. He's been like a father to me, like a mother, he's been just great to me. I am really grateful to him.''
Kanu achieved so many great things in his career, from Champions League to League titles to domestic cup successes.
The Atlanta 96 success still means so much to him and almost every Nigerian that experienced it but the feeling you get when you save people's life can't be described by Kanu.
''It's a wonderful feeling. It's a feeling you can't really describe,'' the two-time Africa Footballer of the Year said.
''It means a lot, it means more than winning trophies. Winning trophies is good, it's a good feeling, but saving lives is more than that, so that's why all of us have to really come together and make society a better place for everybody to live.''
Thousands, millions cheered Kanu during his playing days. His famous deft touches, goals and wins lauded by many.
Now he's getting more important touches, targeting more goals.
He needs our cheers and supports more than ever.
More from category
Liverpool's winless start to the season vindicates Sadio Mane

Allegri optimistic about injury scare to 'hot' Angel Di Maria after Juventus debut

Manchester United reportedly close to signing Brazilian forward Mateus Cunha
Recommended articles
Liverpool's winless start to the season vindicates Sadio Mane
Allegri optimistic about injury scare to 'hot' Angel Di Maria after Juventus debut
Manchester United reportedly close to signing Brazilian forward Mateus Cunha
€100m-rated Nunez sees red as Eagles hold 10-man Liverpool at Anfield
Victor Osimhen speaks on his relationship with Napoli coach Luciano Spalletti
'What a debut' - Reactions as Di Maria scores for Juventus in opening game win over Sassuolo