Referee pulls out gun during football game in Brazil
The referee, Gabriel Murta dashed to his dressing room to get a gun after he was assaulted during the game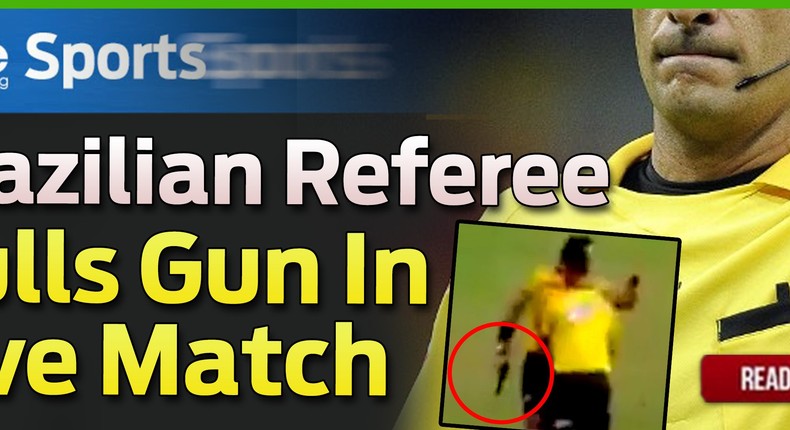 A Brazilian referee reacted to an assault from a player by pulling out a gun during an amateur match.
The incident happened at the weekend during a regional league match in Brumadinho near Belo Horizonte.
In the amateur game between Brumadinho and  AmantesdaBola,GabrielMurta was said to have been attacked by Amantes da Bola subs after the club manager invaded the pitch to demand a red card for a rival team player.
According to the referees' association boss Giuliano Bozzano, Murta who is also a police officer felt threatened and ran to his dressing room to take a gun.
In a footage captured with a mobile phone, Murta can be seen assaulted before he reappeared with a gun.
The referee was stopped by his linesmen and one of the goalies who persuaded him to return to the dressing room.
"The Minais Gerais Football Federation has already summonsed the referee and a psychologist to a meeting and I'm going to talk with him today," referees' association boss Bozzano said.
"On the basis of that conversation and his account of events and the results of the psychological assessment I'll decide what if any measures to take.
"What's happened is obviously not a common occurrence and I don't want to rush into anything.
"At the moment it happened he's opted for getting his gun because in his view it was a question of controlling a situation."
JOIN OUR PULSE COMMUNITY!
Recommended articles
Champions League: Milan will risk it all against Liverpool - Stefano Pioli
Champions League: Inter in Madrid to play with character and do well - Simone Inzaghi
Reality bites again for Barca ahead of rescue mission away at Bayern
Premier League riches sow fear among Champions League rivals
Matchwinner Fred hails Ronaldo and Fernandes dressing room impact
Arteta labels Arsenal 'not good enough' as Everton end barren run
5 decisive UCL group matches to watch this week
Man Utd to face Gerrard's Villa in FA Cup third round
I am only four out of ten - Partey reflects on poor first season