Super Eagles move up 9 places despite AFCON 2017 absence
The Super Eagles of Nigeria moved up from 50th place to 41 in February FIFA Ranking.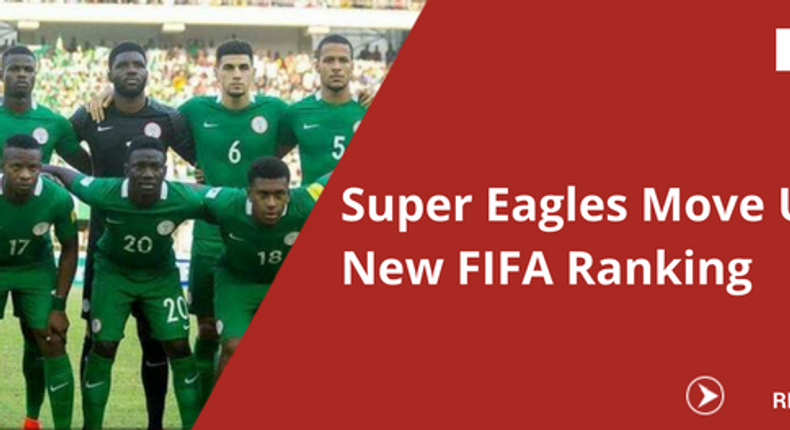 Despite missing out of the
The Super Eagles were absent at the recently concluded AFCON 2017 which was won by Cameroon.
Despite the absence, the Super Eagles moved up nine places from 50 to 41 in the February ranking.
The Super Eagles who last played in November (a 3-1 home win over Algeria in a 2018 FIFA World Cup qualifiers) remain the seventh-placed country in Africa.
AFCON 2017 winners, Cameroon made the biggest jump from, climbing 29 places to 33rd.
Egypt are now the number one country in Africa in 23rd place ahead of Senegal (31), Cameroon (33), Tunisia (36), Congo Dr (37) Burkina Faso (38), Nigeria (41), Ghana (45) Cote d'Ivoire (47) and Morocco (48)
Argentina are still the number one country in world football ahead of Brazil and world champions Germany.
In fourth are Chile while Belgium are fifth.
France and Columbia switch places at sixth and seventh while Portugal, Uruguay and Spain complete the top 10.
(1) Argentina (2) Brazil (3) Germany (4) Chile (5) Belgium (6) France (7) Colombia (8) Portugal (9) Uruguay (10) Spain.
(1) Egypt (2) Senegal (3) Cameroon (4) Tunisia (5) Congo Dr (6) Burkina Faso (7) Nigeria (8) Ghana (9) Cote d'Ivoire (10) Morocco
Recommended articles
Nigerian players who have been nominated for the Ballon d'Or
Israel Adesanya tells Anthony Joshua to channel Nigerian heritage against Oleksandr Usyk
La Liga clubs rule out move for €30m-rated Super Eagles forward
Awoniyi hoping Forest can pull up trees in the English Premier League
'A dream come true' - Super Eagles-eligible defender Udogie says on PL move
Serena Williams suffers defeat in Cincinnati farewell