Everton star Alex Iwobi reacts to Nigeria's loss to Algeria
The Everton midfielder says there is a lot to pick from Nigeria's loss to Algeria on Tuesday night.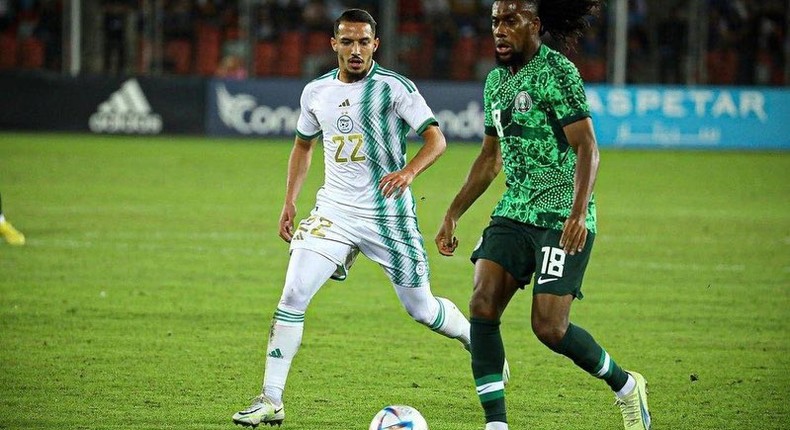 Alex Iwobi says Nigeria can draw lessons from their loss to Algeria despite blaming the referee.
The Super Eagles were on the receiving end of a 2-1 loss to Algeria in the international friendly clash between the two countries at the Oran Olympic Stadium on Tuesday night.
Lessons learnt for Iwobi
Iwobi was in action for Nigeria on the night, with the Everton man showing his impressive club form on international duty. However, despite his impressive display, it was not enough to give Nigeria the win.
Iwobi had initially suggested that the referee should be blamed for the result. The ex-Everton man has now added that the Super Eagles can still draw lessons from the result.
Iwobi took to his Twitter with the caption: Lessons On Lessons To Learn.
The 26-year-old, along with his Super Eagles teammates, will hope to take that lesson into their next match in the international break.
Everton next for Iwobi
After failing to qualify for the World Cup, Nigeria will play their last match this year when they take on World Cup-bound Portugal in an international friendly encounter on November 17.
The match will serve as preparation for Portugal ahead of their clash against Ghana, who beat Nigeria to the World Cup ticket.
However, before then, Iwobi and his Super Eagles stars have club football to contend with. Football resumes across Europe's domestic league this weekend following the conclusion of the international break.
Iwobi will hope to continue his good form when Everton travel to Southampton on Saturday, October 1.
More from category
Qatar 2022: Blue Samurai look to quench Red Fury as Japan take on Spain in final group game

Sack Race: Former Barcelona coach bites the dust as Mexico terminates contract

How Carthage Eagles soared back to Tunisia with Pulse of the Day performance
Recommended articles
Sack Race: Former Barcelona coach bites the dust as Mexico terminates contract
How Carthage Eagles soared back to Tunisia with Pulse of the Day performance
President Buhari declares National Sports Festival open in Delta in a colourful ceremony
Buhari declares National Sports Festival open in Delta
Efe Ajagba to battle WBC Bridgerweight champion Oscar Rivas in 2023
Qatar 2022: Blue Samurai look to quench Red Fury as Japan take on Spain in final group game
Qatar 2022: Losing winners, winning losers, and Messi's missed penalty highlight chaotic matchday 11
Winner takes all as Croatia and Belgium go to war in search of qualification
'Your GOAT could never' - Reactions as Messi's Argentina defeat Poland to qualify for World Cup knockout stage