PREMIER LEAGUE
Erik Ten Hag: The 'logical one' begins reign as Manchester United manager
Erik Ten Hag had his first interview as the new manager at Premier League giants Manchester United.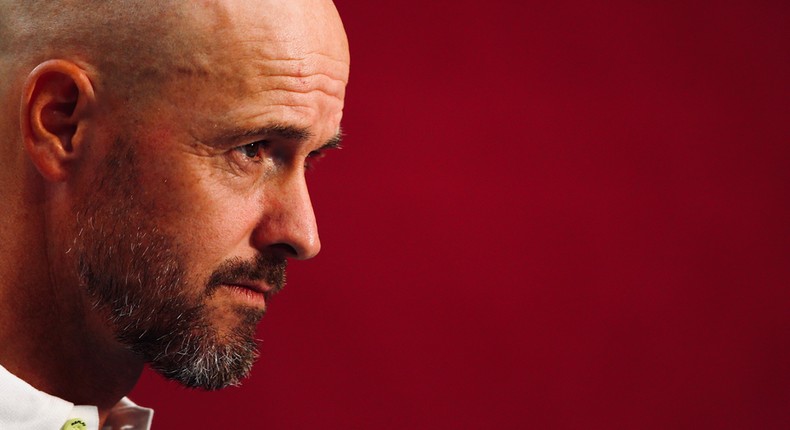 Manchester United have started a new era under Dutchman Erik Ten Hag 24 hours after ending the previous one in defeat.
Former Manchester United winger and Ivory Coast International, Wilfried Zaha, came back to haunt his former club, leading Crystal Palace to a first-ever win over the Red Devils at Selhurst Park.
Zaha netted the only of the game after taking advantage of a bizarre mistake from Bruno Fernandes to evade Diogo Dalot and Harry Maguire before leaving the goalkeeper, David de Gea, rooted to the spot in the first half.
ALSO READ:
AFP
That goal proved to be Zaha's 14th for the Eagles and the 57th goal United had conceded in the Premier League this season.
That defeat brought to a much-awaited and needed end to what has been a rather disappointing six months under the godfather of Gengenpressing, Rangnick.
With the 63-year-old German leaving United with a Europa League ticket for next season after finishing sixth, thanks to Brighton and Hove Albion doing the business over West Ham United, in comes the latest man saddled with the challenge of rebuilding and restoring the lost glory of the sleeping giant, Manchester United.
AFP
Speaking during his first interview as the new coach at the club, with the enormous challenge ahead of him, the 52-year-old Ajax legend says has promised to be 'clear' and 'logical' with his decisions as he looks to rebuild and construct a 'unified' team capable of making United fans proud again and bringing success back to the Theatre of Dreams.
ALSO READ:
Here are some of the top quotes from the Erik Ten Hag interview
1. Understanding the challenges ahead, what needs to be done and what fans can expect:
First of all, we want to make the fans proud. Second, of course, we are in this moment, and the current situation is obviously not that good. It's a big challenge. I want to build and construct a team who are battling for each other, who are unified and who will get results. Also, we are playing in the Theatre of Dreams. We want to entertain. But in the end, the intention is to play fantastic football. If we can't play fantastic football, we still have to win."
2. On aspirations and decisions
I'm not a dreamer. I live by the day. I give my best and I make my decisions based on clearness and logic. We need a good concept and we need the right people around. When we give everything we have, every day, then we will get success. Then you see where you end up. Live by the day and focus on titles and don't dream about other things that can happen in the future."
3: The need for everyone to fight
"Everywhere I was in my career, I have high demands on my players. I expect them to fight and give 100 per cent. I already mentioned that only good is good enough. No, not only that – we have to do better and they have to co-operate. They have to be unified, to form a team, and to battle the opponent."
4. What he expects and wants from players
"I have high expectations from myself and that is also what I demand from my squad. They have to co-operate together and they have to give every day their best. And I would say, for me, good is not good enough. We have to do better."
5. The famous word 'Philosophy' returns to Old Trafford
"We don't have to go over my football. It's about the Man United football and about the Man United identity and philosophy. I think that you pointed it out: it has to be about attacking football. We have to bring structures in the way of playing, so we can play attacking football."
Erik Ten Hag expects some Manchester United players to resume for preseason on June 27 ahead of what's expected to be a long season for the new man.
All quotes are from Manchester United's official website, ManUtd.com
Topics:
More from category
Nigerian striker David Okereke scores on debut for Cremonese

Leicester City manager regrets missing out on Super Eagles star

All you need to about Tottenham-bound Nigerian prodigy, Destiny Udogie
Recommended articles
Leicester City manager regrets missing out on Super Eagles star
All you need to about Tottenham-bound Nigerian prodigy, Destiny Udogie
Emmanuel Dennis' manager reacts following Watford's 1-1 draw with West Brom
Tottenham agrees €20m+ transfer for Nigerian wonderkid, Destiny Udogie
Okoye misses out again as Dennis' Watford fail to punish Ajayi's mistake
Nigerian Players' Review: Iwobi, Aribo, Alhassan, Olusegun, Awoniyi