Manchester United legend stars in hilarious TV advert
The legend appeared in a hilarious advert for Kronenbourg Brewery where he swam the English Channel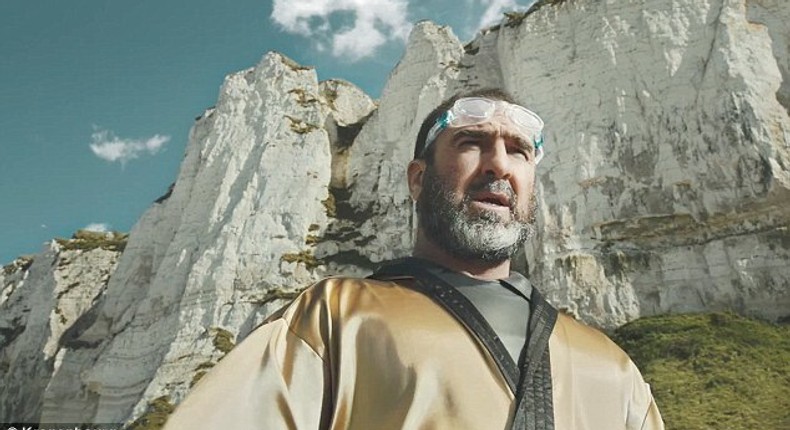 Former Manchester United forward Eric Cantona is apparently loving life on the big screen.
The legend appeared in a hilarious advert for Kronenbourg Brewery where he swam the English Channel.
In the advert, the Manchester United legend  proclaims he will swim from France to England in the name of lager before stripping off to reveal a wetsuit bearing his name on the back, hugging a nun and plunging into the water.
As it is with farmers living the lives of Premier League footballers in previous Kronenbourg adverts, Cantona only makes it to just a waiting yacht where he is welcomed by an aide.
He arrives on the English coastline before saying "It's not where the seagull flies to, it's how it gets there."
Cantona has also kicked off shooting for his upcoming movie 'Anka The Brazilian'.
The 49-year-old actor was pictured at the movie set in June.
Cantona has taken to movies since quitting football.
He won four Premier League titles and two FA Cup trophies during his five years at Old Trafford, before retiring from football in 1997.
The Frenchman has featured in 15 different movies since then.
'Anka The Brazilian' is due for release later this year.
More from category
Arsenal suffer a blow as Osimhen makes his transfer decision

Gucci unveil Man City flop Jack Grealish as Brand Ambassador

Top 5 transfer flops of the just concluded Premier League season
Recommended articles
FestivalofTT2022: How Nigerians dominated ITTF Africa Western Region Championships
Hennessy revitalises Festac Park 23 Basketball Court with "In The Paint" initiative
Arsenal suffer a blow as Osimhen makes his transfer decision
Gucci unveil Man City flop Jack Grealish as Brand Ambassador
Top 5 transfer flops of the just concluded Premier League season
Top 5 successful transfers of the just concluded Premier League season