Real Madrid star buys island for his agent Jorge Mendes
Cristiano Ronaldo according to reports bought a Greek Island for his agent Jorge Mendes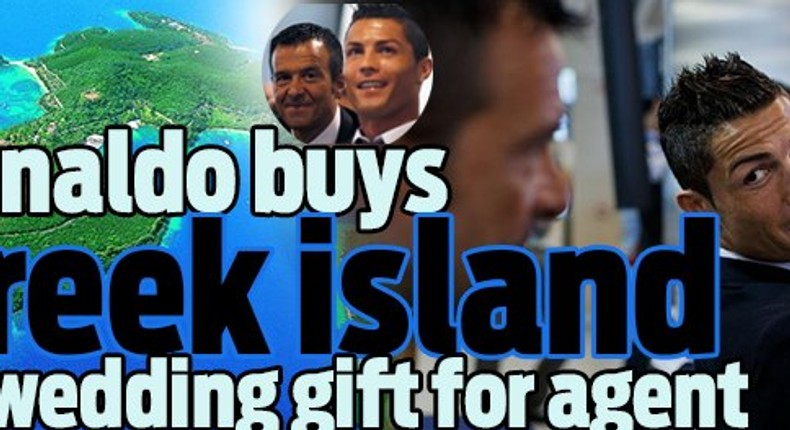 Cristiano Ronaldo was the best man for his agent Jorge Mendes who wedded his girlfriend yesterday, Sunday August 2.
Ronaldo also gave his agent one of the ever gifts if reports are anything to go by.
Reports in the Spanish media suggest that the 30-year-old millionaire bought a Greek island as a wedding present for Mendes.
reports that Ronaldo who is very familiar with Greek Island bought a property there worth millions of dollars for his agent.
The celebrity wedding took place in an exclusive residential area of Porto.
The wedding was attended by Real Madrid president Florentino Perez,  Fabio Coentrao, Pepe, former Barcelona playmaker Deco, Jose Bosingwa and former Manchester United manager Sir Alex Ferguson.
Mendes has brokered more than £1billion of transfer deals and his star studded client base include Chelsea manager Jose Mourinho, David de Gea, Diego Costa, Radamel Falcao, Angel di Maria and a slew of other world stars.
Mendes began as a footballer but was forced to abandon his hopes of a professional career after being rejected by a number of Portuguese clubs when he was in his early 20s.
He ran a video rental store, worked as a DJ opened a bar and nightclub before he stepped into the world of football management.
Mr Mendes and Sandra Barbosa have three children and they have been in a civil partnership since 2005.
More from category
Pulse Sports NPFL Team of the Week

Kurt Zouma and brother Yoan to appear in court today over cat-kicking footage

Arsenal suffer a blow as Osimhen makes his transfer decision
Recommended articles
Pulse Sports NPFL Team of the Week
Tunisia's US Monastir and Egypt's Zamalek advance to semifinals
Shapovalov, Tsitsipas face a tricky opening round clash as Halep headlines Women's action in the French Open
Cameroon's FAP and Angola's Petro de Luanda move on to semifinals
Kurt Zouma and brother Yoan to appear in court today over cat-kicking footage
Udoka's Celtics beat down Heat to tie Eastern Conference Finals