Meet new twins of Real Madrid star
Cristiano Ronaldo took to his social media to show off a photo of his new twins.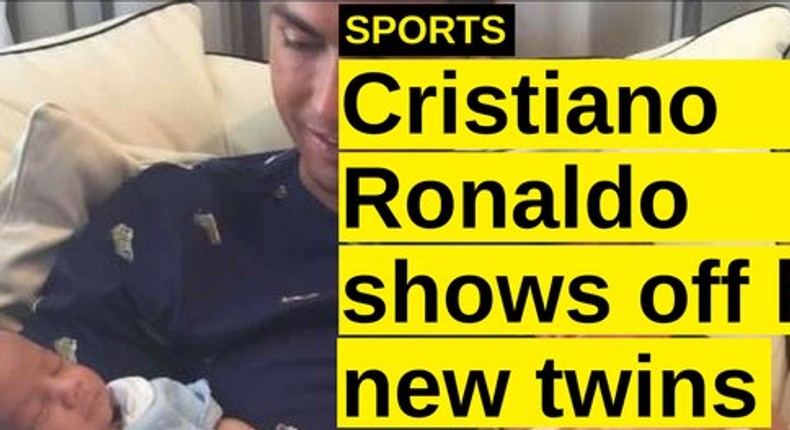 Barely 24 hours later, the Portugal captain took to his social media to show off the new bundles of joy.
"So happy to be able to hold the two new loves of my life," the Ballon d'Or winner wrote alongside the photo on his social media.
According to Ronaldo, this is the first time he is seeing the babies who were born in the United States.
Reports suggest that his mother Dolores Aveiro had been in the United States with the babies and brought them home.
Little is known about the twins as previous reports from Portugal suggest they are a boy and girl named Eva and Mateo.
However, in a literal English translation of Ronaldo's Facebook statement which was written in Portuguese and with which he confirmed the arrival of the twins, he called them ' sons'.
"I was in the service of the national team, as always, body and soul, even though my two sons were born," the 32-year-old football star writes on Facebook after Portugal's loss to Chile in the semi-final of the Confederation Cup.
"Unfortunately, we have not been able to achieve the main sporting objective that we wanted, but I am sure we will continue to give joy to the Portuguese.
"The President of the Portuguese Football Federation and the national picker have today had an attitude that has touched me and I will not forget.
"I'm very happy to finally be with my children for the first time."
Ronaldo was clearly excited to meet his new babies having left the Portugal squad in Kazan just this morning.
The forward will not be part of the third-place against Portugal after being permitted to leave to see his new children.
More from category
La Liga 2: Umar Sadiq's Almeria snatch late point to remain in La Liga hunt

10-man RB Leipzig beat Freiburg on penalties to lift DFB-Pokal

Reactions as Kylian Mbappe celebrates new PSG contract with hat-trick against Metz
Recommended articles
La Liga 2: Umar Sadiq's Almeria snatch late point to remain in La Liga hunt
10-man RB Leipzig beat Freiburg on penalties to lift DFB-Pokal
Reactions as Kylian Mbappe celebrates new PSG contract with hat-trick against Metz
Reactions as Fiorentina ruin Chiellini's final game for Juventus
Reactions as Lyon dethrone Oshoala's Barcelona to re-claim UWCL trophy
"He's a £20m player" - Rangers legend values Calvin Bassey highly