Champions League: How Cristiano Ronaldo almost cried after Juventus lost to Porto [video]
The Portuguese football icon could not hide his frustration after Juventus crashed out of the Champions League.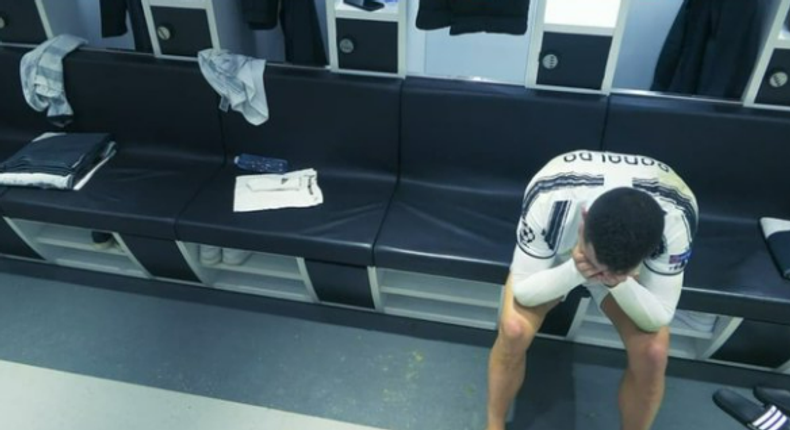 Cristiano Ronaldo's had a go at his teammates after Juventus crashed out of the Champions League last season.
This was made known in a released extraordinary behind-the-scenes footage.
Porto recorded a 2-1 first-leg victory against Juventus in a Champions League last-16 encounter played in Portugal.
Many expected Juventus to overturn the deficit in Turin. However, Juventus were a goal down to Porto at home in the return leg.
The result made Ronaldo lose his cool in the dressing room during the halftime break.
With Juventus down 3-1 aggregate Ronaldo was not pleased with the effort of his teammates.
This was captured in the new documentary 'All or Nothing: Juventus'.
A scene that is trending on social media is a fascinating clash at the Allianz Stadium between Ronaldo and teammate Juan Cuadrado.
Ronaldo screaming at his teammates said, "We have to work harder. What the f***! We didn't play at all! Nothing!"
Cuadrado then responded "Don't worry"
Ronaldo further added, "We played s***, always!"
Cuadrado did not let up replying, "You must be an example for everyone"
Ronaldo did not back down and responded, "I'm included too. We have to tell each other the truth, we played s***. This is a Champions League match, we need to have personality."
Trying to de-escalate the situation in the dressing room, Juventus boss Andrea Pirlo stepped in.
He said, "That's enough, let's go. That's enough, Cri. That's enough, Juan.
"We have to be calm and patient. We will continue in this spirit, but without arguing, with the posture of someone who wants to win."
The halftime rant by Ronaldo inspired his Juventus teammates to score three goals in the second half.
Pulse Nigeria
However, Porto scored also and the game ended in a 3-2 victory for Juventus. It was not enough as Juventus crashed out of the tournament on aggregate.
After the game, Ronaldo was in tears because Juventus could not progress to the quarter-finals of the competition.
Despite being a five five-time Champions League winner the Portuguese was praised for his insatiable appetite to be victorious all time
Recommended articles
AFCON2021: 'Eguavoen has given me the freedom to attack' - Moses Simon
The happy world of Aribo with Nigeria at the Cup of Nations
Sargent leads Norwich out of relegation zone
Dembele penalty gives Lyon derby win
Gerrard 'shocked' Benitez took Everton job
Underperforming Egypt and Senegal look to Salah and Mane for goals