WHAT'S BUZZIN
Barcelona star Aubameyang confirms retirement from international football with Gabon
Barcelona star Aubameyang confirms retirement retirement from international football with Gabon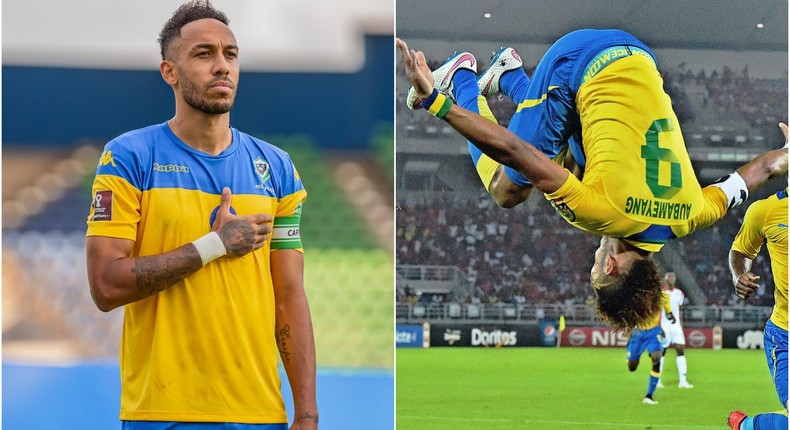 Aubameyang will now focus on Barcelona after retiring from representing Gabon.
Aubameyang on Friday, May 20 took to his official Instagram account to confirm his retirement from the Gabonese national team.
Thee 32-year-old star who was born in Laval, France opted to play for Gabon the country of his father.
Aubamenyang on retirement
In the social media post, Aubameyang explained his decision to quit the national football team after 13 years of service.
He said, "For 13 years I represented the colors of my country proudly and gave everything I had.
"I will forever be grateful for the experiences that I had, for the victories, the dances, the losses, the learnings, for my teammates, coaches, staff and for the whole country of Gabon - all of you helped me to become the player and the person that I am today, and I will never forget. Panthers forever."
Pulse Nigeria
Aubameyang's decision to retire from international football will now see him shift is focus to producing on a regular basis for La Liga giants Barcelona.
Since he joined Barcelona, Aubameyang has contributed 13 goals in a total of 22 appearances.
More from category
Now that Ronaldo is available again, it is time for PSG to make every football fan's dream come true

Osimhen could partner with Ronaldo next season as Man Utd face a battle to keep Portugal's captain

Carragher calls Gary Neville a clown, mocks him for Ronaldo's decision to leave Manchester United
Recommended articles
Now that Ronaldo is available again, it is time for PSG to make every football fan's dream come true
Osimhen could partner with Ronaldo next season as Man Utd face a battle to keep Portugal's captain
Carragher calls Gary Neville a clown, mocks him for Ronaldo's decision to leave Manchester United
Manchester United risks falling for another transfer scam if they target Scamacca as Ronaldo's replacement
Nigeria vs South Africa head to head: Super Falcons' dominance threatened by Banyana Banyana
UFC fighter calls out Israel Adesanya, claims champion is avoiding him