Arsenal forward inspiring Nigerian-born teammates to play for Super Eagles
Although born in Nigeria, Iwobi has a British passport and represented England at the U-16, U-17 and U-18 levels.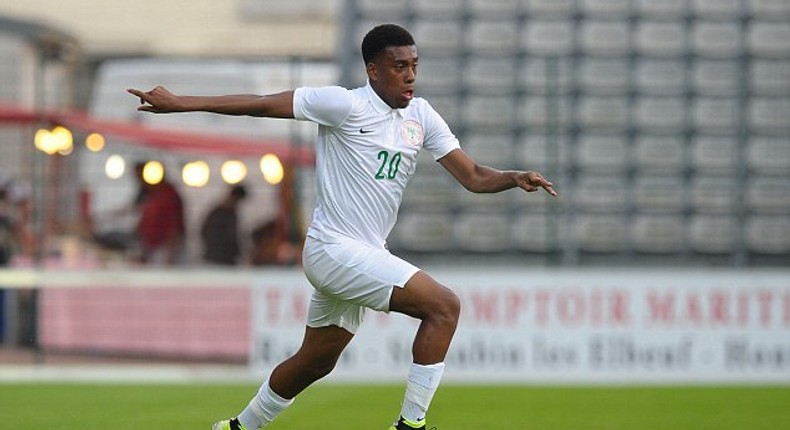 He, however, switched his allegiance for Nigeria and is now a bonafide international with the Super Eagles.
His decision is inspiring other young Nigerians who have British passports at Arsenal.
Defender Joseph Olowu, who plays in the Arsenal youth team says seeing Iwobi play for Nigeria has inspired him to do the same.
"My parents are from Nigeria and I am eligible to play for either Nigeria or England," Olowu told Arsenal's official website.
"I have not featured internationally yet but that may come. Alex Iwobi has really been an inspiration to me and to my team-mate , who I also live with in digs in Cockfosters.
"He (Iwobi) came through the Arsenal youth system and is doing so well. He scored against Zambia in the World Cup qualifiers the other week and his name is growing and growing in African football.
"My dad has also noticed that there is a lot of attention being given to Toby and me in the African football forums which must in part also be due to how well Alex has been doing."
Iwobi is set to play a part in Super Eagles 2018 FIFA World Cup qualifier against Algeria on Saturday, November 12.
More from category
Super Eagles legend Okocha teams up with Floyd 'Money' Mayweather in Abu Dhabi

Super Eagles stars Ndidi, Simon, Osimhen celebrate end of the season [Photos]

Zaidu Sanusi wins domestic double with Porto
Recommended articles
Super Eagles legend Okocha teams up with Floyd 'Money' Mayweather in Abu Dhabi
Super Eagles stars Ndidi, Simon, Osimhen celebrate end of the season [Photos]
Zaidu Sanusi wins domestic double with Porto
Chukwueze, Villarreal book UECL ticket with first win over Barcelona at Camp Nou
Villarreal humble Barcelona in final game of the season
Liverpool narrowly fall short of title hopes