AFCON 2021: Time for Dennis The Menace to grow up
Despite being the Premier League's joint-fifth highest scorer this season, it remains unclear whether the Watford forward will be at the AFCON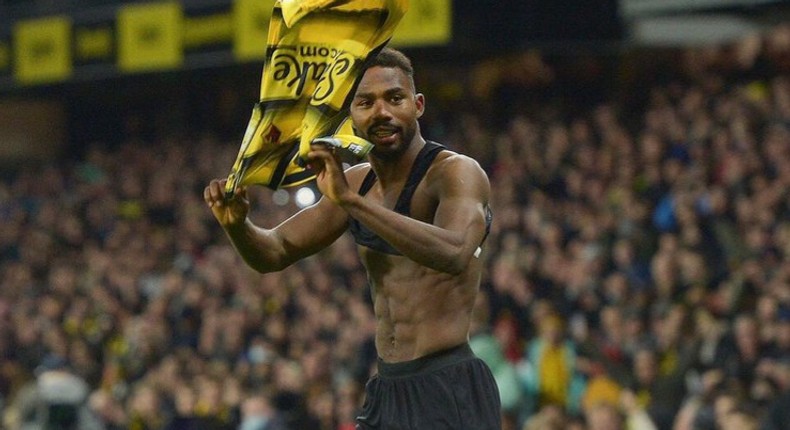 There is only so long the silent treatment can go on before it becomes palpably uncomfortable on both sides.
It is with unanimous incredulity that the ongoing impasse between Emmanuel Dennis and the Nigeria national team has been observed. The 24-year-old is enjoying an outstanding debut season in the Premier League with promoted side Watford, and has marked himself out as a man for the big occasion with goals against Manchester United and Chelsea--his fourth and sixth of the campaign respectively.
As acclaim and recognition have poured in, it has become increasingly difficult to justify his continued exclusion from the Super Eagles' fold. Dennis' last international call-up came in November 2020, when he played eight minutes of a disastrous double-header against Sierra Leone that saw Nigeria amass two points and slip down the FIFA rankings.
The second half of the 2020/21 season saw him shipped out on loan to Bundesliga side Koln, a spell that was mutually distasteful for both parties, and so it was no great surprise that he was missing for the matches with Benin and Lesotho in March. However, having found a new lease on life in the English top-flight since the summer, his absence from September through to now has taken on a more dubious aspect.
Now, it is important to note that there are no standard metrics that govern the invitation of players to the national team. It is entirely down to the judgment of the manager, and to what he prioritizes. It is also a bit of a statistical quirk that Nigeria has a whole glut of young, dynamic attacking talent emerging at the same time, thereby making for even fiercer competition for a fixed number of squad places.
However, Gernot Rohr can hardly have failed to notice that, of the Super Eagles' cadre of wide attackers, few have posted numbers and/or performances even remotely comparable to Dennis' this season.
Samuel Chukwueze has been injured for the majority of the season, Samuel Kalu has barely registered in a meaningful way at Bordeaux, Chidera Ejuke's eminently eye-catching snippets come out of the Russian top-flight, and Ahmed Musa is a shadow of his speedy best. Only Nantes' Moses Simon legitimately holds a candle to Dennis, and his performances for the national team have largely flattered to deceive.
Twitter
The ability of the former Club Brugge man to play across the front, as well as his aptitude to assisting as much as scoring (he has five of those so far this season) only strengthen his case for inclusion.
Depending on who or what you believe, Rohr has taken a hardline stance against the Watford livewire on account of his attitude during previous invitations. There have been reports of undisciplined, diva-ish behaviour on the player's part, the extent of which has led the German -- as well as other members of the technical crew -- to decide Dennis is more trouble for the collective than he is worth.
None of that has been substantiated, of course. However, it does not take Sherlock Holmes-level deductive reasoning to detect there is an undercurrent of animus lurking just beneath the surface. Rohr publicly dismissed direct questioning as to the player's international status last month, describing the subject as "not really interesting", and has more or less called everyone under the sun -- including a retired Odion Ighalo -- ahead of Dennis.
Pulse Nigeria
On his part, the forward has, in the last 48 hours, had to publicly deny reports indicating he is unwilling to be called up for the Africa Cup of Nations (AFCON), which in itself -- and in light of some of the allegations surrounding the nature of his previous misconduct on international duty -- paints a picture. Smoke does not always mean fire, but in this case there is some heat accompanying.
Whatever the specifics of the situation between the two, Rohr has apparently included the player in his provisional squad list for the AFCON, which would indicate there is at least the possibility of amnesty. However, getting listed and being afforded a proper crack of the whip are two very different things, and that may cut to the heart of the player's reticence. One thing that is clear, denials irrespective, is that Dennis has a very high opinion of himself, and considers himself of a certain status. One has only to remember the infamous bus incident in Belgium.
However, that can very easily veer into willfulness, and this is a personality failing that has pockmarked his career so far, and has arguably made his road to the top more arduous than it needed to be.
Twitter
If Rohr is willing to give him another chance, it would behoove Dennis to show himself a more mature individual and meet the German in the middle. This would entail making a conciliatory effort, probably in the form of a phone call, to smooth things over and clear the air.
His petulance at Brugge was explained away by those in his camp as a consequence of the Belgian side's unwillingness to sanction a move away at the height of his initial popularity. Fair enough. Now that he is free of that stricture, and taking the Premier League by storm, the expectation is that he has evolved into a calmer, less problematic figure.
Extending an apology to Rohr would not only show this, but would actually do his chances of playing an important role at the AFCON a world of good.
Topics:
More from category
Super Eagles star Emmanuel Dennis sends a message to Watford after his exit

Zaidu Sanusi gets first clean sheet, helps Porto steal late win at Vizela

Antonio Conte accuses Thomas Tuchel of being aggressive after touchline spat
Recommended articles
Super Eagles star Emmanuel Dennis sends a message to Watford after his exit
Zaidu Sanusi gets first clean sheet, helps Porto steal late win at Vizela
Antonio Conte accuses Thomas Tuchel of being aggressive after touchline spat
Okereke scores on league debut, Dessers blanks as Fiorentina downs 10-man Cremonese 3-2
Everybody knows what is going on - Thomas Tuchel on referee Anthony Taylor after Tottenham match
Reactions as Sadio Mane shines in Bayern Munich's 2-0 win against Wolfsburg