Boxer's bodyguards are so big they take separate private jet
Floyd Mayweather's bodyguards do not travel on the same plane with him because they are too big.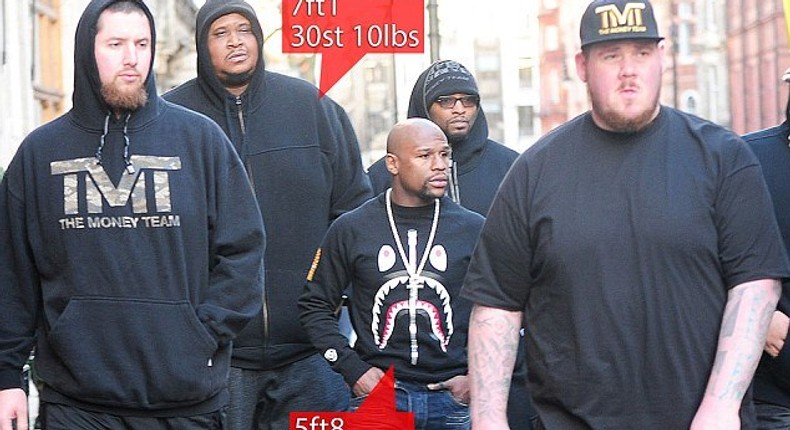 Mayweather is known to be followed by bulky body guards who are part of 'Money Team'.
According to boxing correspondent Mike Costello says, the big bodyguards don't fly with the 40-year-old in his private plane.
"They are huge, huge men - Men so big, by the way, that he won't let them fly on his own private jet," Costello said.
"He believes that that kind of bulk cannot be lifted by a smaller jet like that so he has another jet specifically for his bodyguards."
Off course the undefeated boxer can afford it, he is worth over $340m according to Forbes and is set for another big payday with his upcoming fight against Conor McGregor.
Depending on pay-per-view sales, Mayweather could add another $200 million to his career earnings.
More from category
Asisat Oshoala to battle 19 others for 2022 Ballon d'OrAward

Ballon d'Or: Adeyemi, Saka and Musiala nominated for 2022 Kopa Trophy

'He's gaining so much respect' - Lampard backs Iwobi to play at a high level for Everton
Recommended articles
Asisat Oshoala to battle 19 others for 2022 Ballon d'OrAward
Ballon d'Or: Adeyemi, Saka and Musiala nominated for 2022 Kopa Trophy
'He's gaining so much respect' - Lampard backs Iwobi to play at a high level for Everton
Ballon d'Or: Mendy and Bounou make nominee list for 2022 Yachine Trophy
Umar Sadiq to play in dream Real Madrid match
Hutton identifies Bayern Munich star to replace Joe Aribo