Arsenal drop new jersey to keep young people safe from knife crime and youth violence
The Gunners unveiled a new jersey to inspire youths to stay away from crime.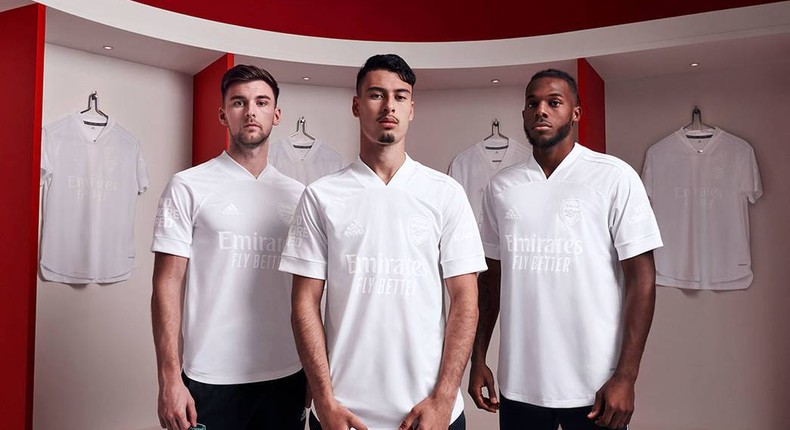 Premier League giants Arsenal on Friday, January 7, 2022, dropped a new jersey.
The new jersey by the Gunners is aimed at 'keeping young people safe from knife crime and youth violence.'
The new outfit is an all-white replica of the first kit and designed by international sports brand Adidas.
Some of the notable names that modeled the new jersey are forward Gabriel Martinelli, defender Kieran Tierney, and club legend Ian Wright.
The Gunners in a statement on their website outlined the reason for dropping the new kit as well as its importance to the community.
The statement in part read, "The No More Red collective is a group of young people who have been recognized for the positive impacts they are making on their community.
"We believe every young person deserves the opportunity to express themselves, the opportunity to exist within a safe environment and the opportunity to live free from fear of violence.
"Following our launch of No More Red, our hope is that our white shirt will become a symbol of positivity in the community, given to individuals and organizations who are giving back to the community and creating a positive environment for young people."
London is where the Gunners are based and is known to be a neighborhood notorious for knife attacks.
There were over 10,000 knife crimes in just the space of the year and the No More Red initiative by the Gunners aims to reduce those numbers drastically.
The Gunners will wear the new jersey when they take on Nottingham Forest in an FA Cup third round fixture scheduled for Sunday, January, 9, 2022.
Topics:
Recommended articles
AFCON quarter-final moved to another stadium after deadly crush
Deflated Super Eagles land in Abuja, promise to be back after AFCON2021 disappointment
Germany defender Suele poised to leave Bayern Munich - reports
Australian Open: Rafael Nadal cruises to the semis after thriller against Dennis Shapolavov
Alex Iwobi thanks Nigerians for support after Super Eagles' AFCON disaster
Major football stadium tragedies