Tyson Fury announces retirement on 34th birthday
2008-2022, Tyson Fury says goodbye to boxing on 34th birthday.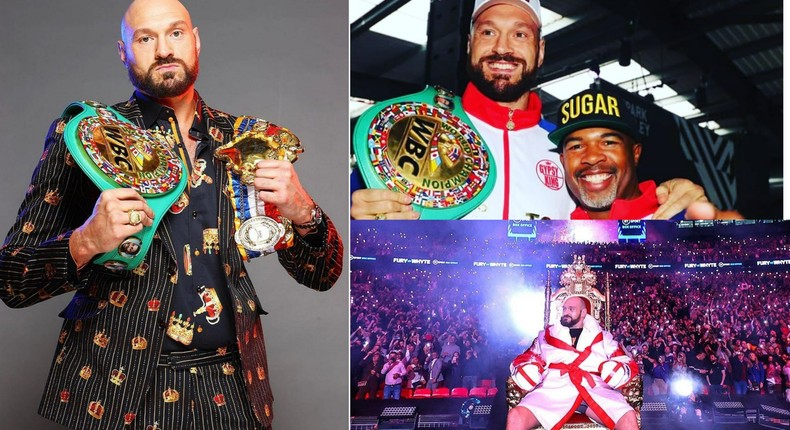 British professional boxer Tyson Fury has announced his retirement from the sport.
Fury, the reigning WBC heavyweight boxing champion announced his retirement on Friday, August 12, 2022.
The retirement announcement from Fury comes on his 34th birthday.
Fury took to his official social media platforms to confirm his retirement from boxing.
Fury retires from boxing
Along with a photo with his trainer was a message that said, "MASSIVE THANKS TO EVERYONE WHO HAD AN INPUT IN MY CAREER OVER THE YEARS & AFTER LONG HARD CONVERSATIONS IV FINALY DECIDED TO WALK AWAY & ON MY 34th BIRTHDAY I SAY Bon voyage. "
Fury also appreciated several personalities in the statement, he added, "HEARS A FEW WHO MADE IS SPECIAL ALONG THE WAY-@frank_warren_official @kronksugarhill @btsportboxing @gypsyjohnfury @spencerbrownmrgoldstar @steveegancoach @espn @wbcboxing @toprank @jimmyjamesharrington @bodypuncher @isaaclowe6 @bendavison_ @kristianblacklock @mattmassage94 @allcocktimothy ROBERT DAVIS, SHANE FURY HUGHIE FURY, @jamesward_80 SORRY IF I MISSED U THERES TO MANY TO NAME! MASSIVE SHOUTOUT TO @parisfury1 WHO HELPED ME MORE THAN ANYONE. & MOST OF ALL THANKYOU GOD 🙏 SEE YOU ALL ON THE OTHER SIDE YOU BIG DOSSERS😎 2008-2022."
There have been several reports linking Fury with a fight against Derek Chisora but the announcement of his retirement rules him out of action.
More from category
BOXING: Efe Ajagba must get better - Ward

Dillian Whyte calls out Francis Ngannou for boxing and MMA doubleheader

BOXING: Ngannou calls out Joshua, Fury after turning down $8 million UFC deal