Efe Ajagba to battle WBC Bridgerweight champion Oscar Rivas in 2023
Nigerian boxing star Efe Ajagba returns to the ring against WBC Bridgerweight champion Oscar Rivas in 2023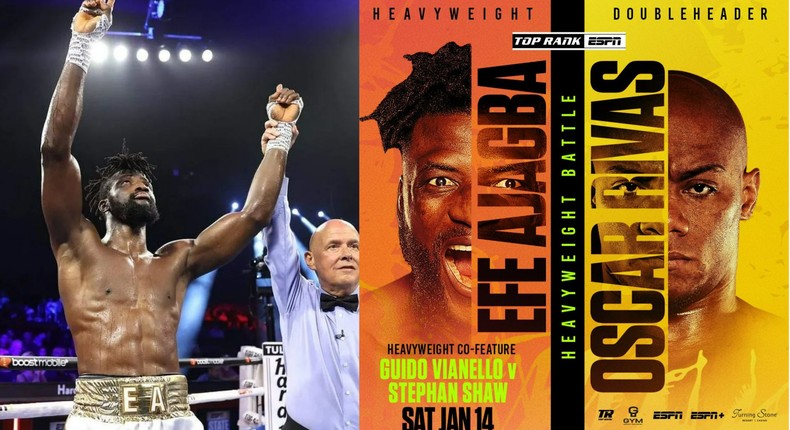 Nigerian professional boxer Efe Ajagba is set to return to the ring in early 2023.
The 28-year-old Ajagba will return to the ring against Colombian star Oscar Rivas in New York early in 2023.
Ajagba will headline the high-powered heavyweight doubleheader Top Rank on ESPN 2023 slate along with Rivas.
Ajagba vs Rivas
Ajagba known as "The Silent Roller" will take on "Kaboom" Rivas in the 10-round co-feature.
Ajagba and Rivas both have good amateur backgrounds and representatives in their respective countries at the summer Olympic games.
Top Rank chairman Bob Arum is hyped about the match-up between Ajagba and Rivas. He said, "The heavyweight division is loaded with talent, and we have two 50/50 matchups that will see a pair of contenders emerge at Turning Stone."
Ajagba aims to continue his rise in the heavyweight division and victory against Rivas could open the door for massive fights against Dillian Whyte, Jermaine Franklin, and also Anthony Joshua.
Efe Ajagba on Oscar Rivas
Speaking ahead of the clash, Ajgba revealed that he is looking forward to taking out a difficult opponent such as Rivas.
He said, "I am injury-free and ready to show the world what I can accomplish when I am 100 percent.
Pulse Nigeria
"I respect Oscar Rivas for accepting the challenge. We will give the fans a great show, but I will be victorious on January 14th."
Rivas said the reigning WBC Briderweight champion is excited to face Ajagba at heavyweight before defending his title.
He said, "I'm extremely happy to be back in the ring in Verona where I had a lot of success not too long ago. I'm proud of my WBC Bridgerweight title and will be defending it soon, but this opportunity Top Rank gave us at heavyweight was too good to pass up.
"I also have a lot of respect for Ajagba, and while I agree with him that it will be spectacular for the fans, my skills and my experience will be the difference."
Ajagba will take on Rivas at the Turning Stone Resort Casino in Verona, New York on Saturday, January 14 2023.
More from category
BOXING: Efe Ajagba must get better - Ward

Dillian Whyte calls out Francis Ngannou for boxing and MMA doubleheader

BOXING: Ngannou calls out Joshua, Fury after turning down $8 million UFC deal