3 fight plan for Anthony Joshua to become 3-time heavyweight champion
In just 3 fights, the plan is set for Anthony Joshua to become a 3-time heavyweight champion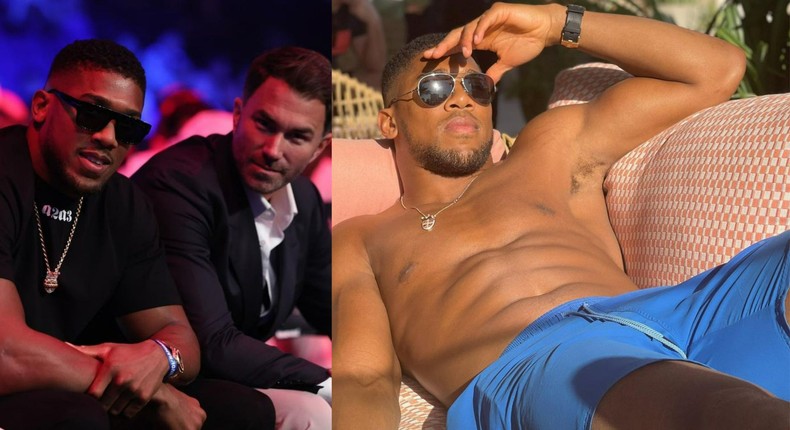 English professional boxer of Nigerian descent Anthony Oluwafemi Joshua OBE is set to fight three times in the year 2023.
Joshua's return to the ring was explained by his promoter Edward Hearn the chairman of Matchroom boxing.
Joshua suffered a loss to Oleksandr Usyk in his fight that took place in Jeddah Saudi Arabia.
He has now lost the IBF, IBO, WBA, and WBO boxing heavyweight titles as Usyk now plans an undisputed fight with WBC champion Tyson Fury.
Hearn in an interview with DAZN boxing has explained how he plans to help Joshua return to the pinnacle of heavyweight boxing in 2023.
Hearn on Joshua fighting Fury and Wilder
According to Hearn, Joshua will fight three times in 2023 with negotiations already taking place with some of the best in the division.
He explained that there is a plan in place for Joshua to build back up before taking on the likes of Fury and Deontay Wilder.
Speaking to DAZN boxing he said, "I truly believe Deontay Wilder & Tyson Fury are nailed on for 2023.
"They have to be because AJ isn't interested in having three or four-nothing fights. He'll listen to his training team and take their advice."
After revealing Joshua will return in April against a top 15 contender. Hearn also stated that the ideal fight after that will be a rematch against Dillian Whyte and the third against Wilder.
AFP
Hearn however did not rule out the possibility of Joshua taking on Wilder in his second fight with a possible rematch between the two as a third.
He explained that Wilder is already set to face Andy Ruiz in a WBC heavyweight eliminator to become the mandatory challenger for Fury.
Hearn said, "There's an open line of communication with [Deontay Wilder's co-manager] Shelly Finkel. He's [Wilder] going to fight Andy Ruiz. That fight has been ordered, and AJ is going to come back in the first week of April.
"I'm not ruling out [that] fight #2 of the year could be Deontay Wilder, but we've got a plan. This guy is one of the biggest stars in boxing.
"This guy has so much more to give to the heavyweight division, but this is also a very important moment that we must get right."
"Those lines of communication are open with Deontay Wilder, and we know it's a huge fight. We know that fight does massive numbers in the UK, U.S, and Middle East. It doesn't really matter, and that's the fight.
'He wants to be in the biggest fights possible, and he's proved that his whole career.' It's all very well being brave, listening to Twitter, going out, and fighting Deontay Wilder [next] and doing this and doing that, but there has to be a plan, a smart plan."
It is expected that Joshua's next opponent will be revealed in February ahead of the fight in April.
More from category
BOXING: Efe Ajagba must get better - Ward

Dillian Whyte calls out Francis Ngannou for boxing and MMA doubleheader

BOXING: Ngannou calls out Joshua, Fury after turning down $8 million UFC deal