Nigerian basketball superstar threatens retirement in retaliation to the President Buhari's 2-year ban on the sport
D'Tigress superstar Ezinne Kalu hints at retirement from the national team after FIBA confirmed Nigeria's withdrawal from the 2022 World Cup in Australia.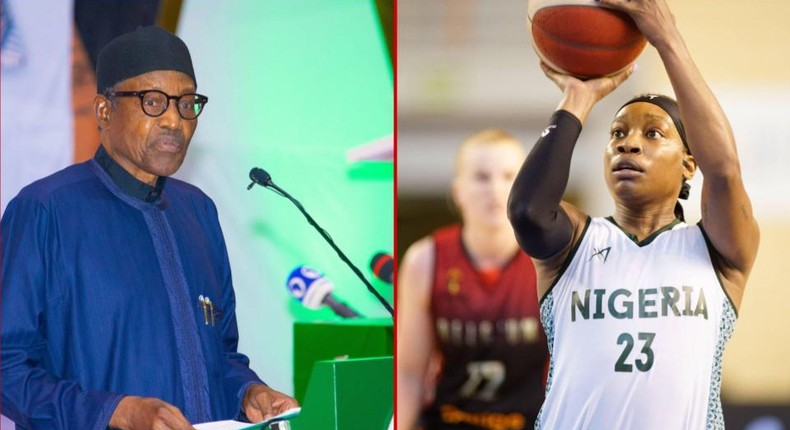 Nigerian women basketball superstar, Ezinne Kalu hinted at early retirement from international duties via her official Twitter account.
The official FIBA Twitter account announced that Nigeria will now be replaced by Mali, the team they beat to secure qualification in the first place.
Ezinne Kalu did not take the news well and unofficially announced her retirement from the national team in response, making her the first D'Tigress player to publicly react to the latest development.
ALSO READ
Why was Nigeria withdrawn?
The Nigerian women's national team also known as the D'Tigress were forced to withdraw from the 2022 World Cup which they had qualified for fair and square due to no fault of theirs.
Pulse Nigeria
President Muhamadu Buhari placed a two-year ban on all basketball activities in the country which was why the team had to withdraw from the World Cup despite the pleas of the players.
Pulse Nigeria
The basketball ban which ultimately led to the withdrawal was a result of the ongoing war between factions in the Nigeria Basketball Federation, NBBF.
The pleas from the players for the government to lift the ban and let them participate in the showpiece tournament in Australia fell on deaf ears as nothing was done until the FIBA deadline passed.
And now, Mali who lost the qualifiers to Nigeria will now go instead as the biggest beneficiaries of this messy situation.
Recommended articles
'No one can compete with him' - Guardiola heaps praise on Erling Haaland
Mikel says Mourinho changed his position at Chelsea because of ex-Real Madrid star
Bet9ja odds & Betting tips for English Championship today
Super Eagles forwards could get ex-Real Madrid & Liverpool boss as new coach
'I don't regret' ditching United for Chelsea, ex-Eagles captain Mikel says
Bet9ja odds & Betting tips for today's UEFA Champions League games