FIBA WWC
VIDEO: Mali disgrace African continent as teammates exchange blows
Watch Mali the team that replaced Nigeria disgrace the African continent as players exchange blows at the FIBA WWC.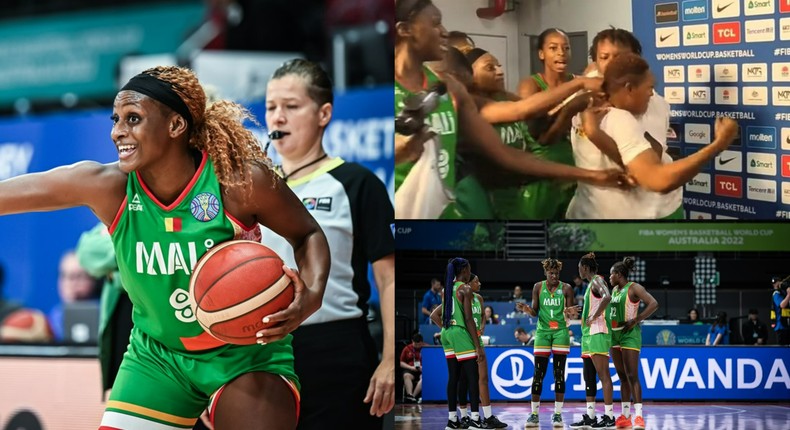 Mali Africa's sole representatives at the FIBA WWC suffered an 81-68 loss to Serbia in a group stage fixture played on Monday, September 26, 2022.
It was Mali's fourth loss at the FIBA WWC as they were well beaten in the previous three games.
Mali lost 89-56 to start the tournament, then 118-58 against hosts Australia and then 74-59 to France.
Malian players fight each other at World Cup
Three defeats and another loss to Serbia sent tempers flaring in the Mali camp.
While Malians were still upset about four straight defeats, it went from bad to worse following an exchange between teammates.
The team were making their way through the media area where reporters interview players after their elimination from the competition.,
One of the players launched a fist at her teammate which was caught on camera by Serbian television interviewing one of their stars.
The video of Mali's players punching each other went viral bringing shame and ridicule to the African continent based on reactions.
Pulse Nigeria
Mali suffered an 88-65 loss to Canada in their final group game on Tuesday, September 27 and will now exit the tournament without a win.
Watch video of Malian players fighting below
More from category
WNBA stars and coaches to lead top African prospects at 4th NBA Women's Camp in Senegal

Reactions as Kanye West accuses NBA star Chris Paul of hooking up with Kim Kardashian

Fans blast Giannis Antetokounmpo for being fake humble after altercation with Montrezl Harrell
Recommended articles
Ghana vs Uruguay live, South Korea vs Japan live
Basketball: 4 Nigerians to join top WNBA stars & coaches at the 4th NBA Academy Women's Camp Africa in Dakar
WNBA stars and coaches to lead top African prospects at 4th NBA Women's Camp in Senegal
Move aside Ronaldo, Bruno Fernandes is Portugal's new star
Super Eagles forward named player of the month for November in Serie A club
Cameroon to face a 'weakened' Brazil in crucial tie, can the Lions take advantage?
Kylian Mbappe: Nike equip French star with new signature boots ahead of World Cup last 16
Qatar 2022: Argentina vs Australia: The Goat vs 11 Socceroos; Preview
More than 4 fans cart away N270,000 in Pulse Sports' World Cup Challenge