FIBA WWC
Nigeria's D'Tigress disagree with Buhari's ban on basketball
D'Tigress beg Buhari to lift ban so they can make Nigeria proud at the World Cup.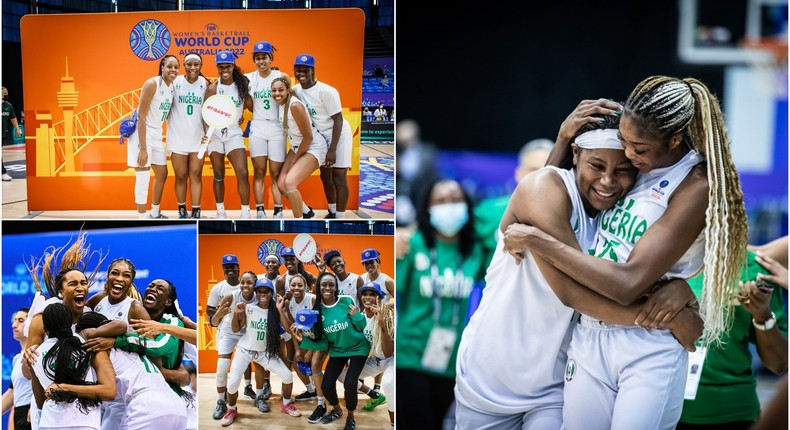 Nigeria's senior women's basketball team known as D'Tigress have finally reacted to the ban on basketball in the country.
The ban means that the national teams will have to withdraw from representing the country in international competitions.
The three time African champions are set to take part at the FIBA Women's Basketball World Cup scheduled to tip off in September and are already making moves to ensure their participation despite the ban.
D'Tigress issued a statement about the bavn on their official social media handles.
In the statement, D'Tigress pleaded with the Buhari administration and the Minister of Youth and Sports Sunday Dare.
Pulse Nigeria
D'Tigress on ban
The statement by D'Tigress said, "We, as the Women's National Team of Nigeria, would like to speak on the government's recently placed two year ban on all Nigerian Basketball International competitions.
"The D'Tigress team would like to state that we do not agree with this ban. This ban is taking away all our future competitions, accomplishments and goals to elevate, inspire, and make Nigeria proud!
"We would like to be given the opportunity to play for our country that we passionately love to represent in this upcoming @FIBAWWC competition.
Pulse Nigeria
"We have worked very hard to be 3x Afrobasket Champions, Olympians and now we are blessed with another opportunity to continue that representation for Nigeria.
"We want Nigerian Basketball to continue to grow and succeed on every level; from the local leagues, grassroots and even on the international stage
"We believe that all levels of Nigerian basketball can excel with the proper attention, togetherness, and organization.
"Our team is a testament to how successful Nigerian Basketball can be and how we have been an inspiration to all Nigerian athletes across the globe.
Pulse Nigeria
"We wish to express our gratitude to all the coaches, medical staff, organizers, and fans. This ban not only penalizes us but you all as well. Your commitment and loyalty to our team will never go unnoticed.
"Our goal is to play and represent Nigeria proudly! We, as the Nigerian Women's National Team plea for the reversal of the International Basketball ban for Nigeria. We hope to be heard! Thank you. Yours truly, D'Tigress May 20th, 2022."
Recommended articles
Ex-Chelsea and Super Eagles star John Mikel Obi reveals his greatest achievements
'No one can compete with him' - Guardiola heaps praise on Erling Haaland
Mikel says Mourinho changed his position at Chelsea because of ex-Real Madrid star
Bet9ja odds & Betting tips for English Championship today
Super Eagles forwards could get ex-Real Madrid & Liverpool boss as new coach
'I don't regret' ditching United for Chelsea, ex-Eagles captain Mikel says