When rumours of Rihannas impending lingerie line began to circulate, everyone wondered what took her so long?!. The Bajan songstress is arguably one of the sexiest women in the world and a lingerie line seemed like the next logical step. It wouldnt be Rihanna however if she didnt do it differently and over the last few day shes been showing us how to wear lingerie during the day.
Rihanna has been showing us that underwear does not necessarily have to go underneath one's clothes.
She's been in NYC these last few days, no doubt prepping for tonight's Met Gala but that hasn't stopped her turning the pavements of the Big Apple to her personal runway.
In a series out outfit posts on Instagram, Rihanna has been showing us how to stylishly rock lingerie. From her all denim look with a custom Marc Jacobs coat to her her brown, de-constructed suit with her cocoa Savage x Fenty bra peeking out.
Riri proves her fashionista status by showing us all the way to rock her line which drops May 11th.
Sneak peek of singers lingerie line and she looks incredible
After her show-stopping appearance at Coachella, Rihanna teased fans with a preview of what appeared to be her lingerie line. An Instagram account called 'savagexfenty' appeared and people waited with baited breath to see what she had in store. Today, on National Lingerie Day, the singer gave us a sneak peek of it and she looks incredible.
Rumours of a lingerie line began swirling around, about a month ago. According to WWD, Bajan songstress, Rihanna inked a deal with TechStyle Fashion Group to create her own lingerie line.
This comes a year after she launched the wildly popular inclusive makeup lineundefinedwhich continues to fly off the shelves worldwide.
The lingerie line has been in the works for about a year according to WWD sources.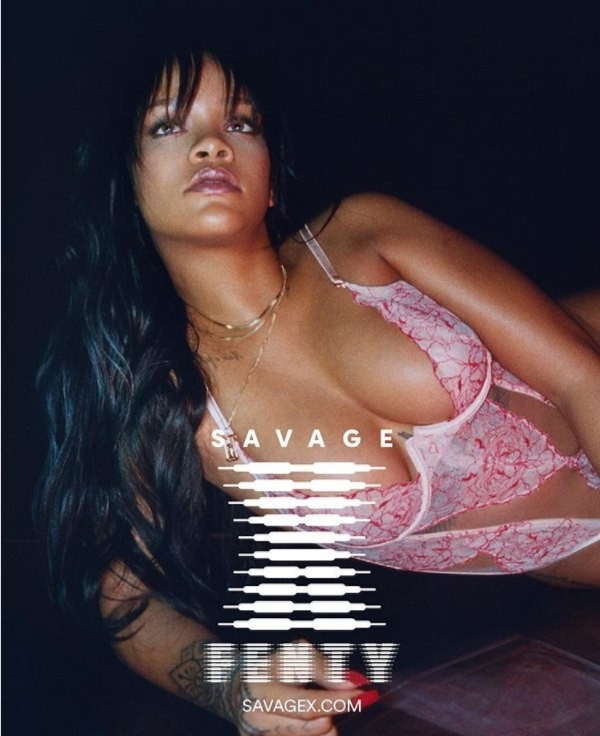 Rihanna stares down the camera with her piercing green eyes wearing a pink cutout one piece. Her hair cascades down in loose waves.
That's all Rihanna gives us but it sure is a lot. Over the coming days, the rest of the line will be revealed and we are sure it will sell-out just like everything else the superstar puts her name on.