Riots rock The Netherlands over covid lockdown protests
Protests against the lockdown conditions imposed on the Netherlands turned ugly on Saturday.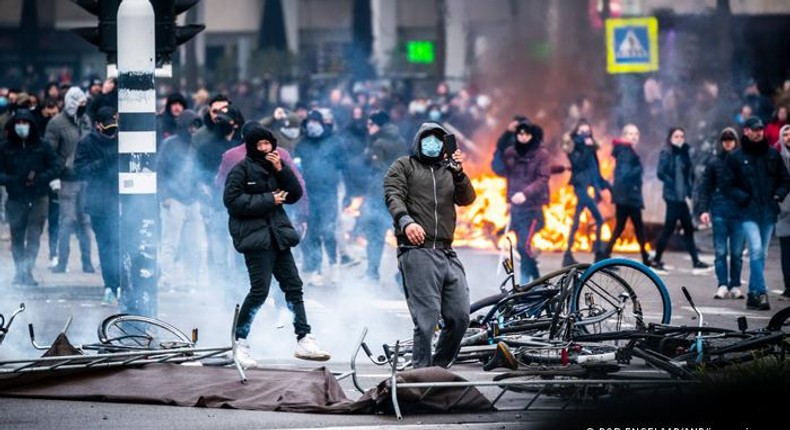 The protests that have erupted against the lockdown conditions imposed on the Netherlands have now erupted in violence.
The Netherlands recently reintroduced lockdown conditions in the European country to limit the rising tide of COVID-19 infections being witnessed. The rate of infections started rising rapidly again in countries around Europe in what is being called the fourth wave of the coronavirus pandemic.
The unvaccinated population in the country has however not taken lightly to the restrictions on their freedoms that has led to the huge protests that have rocked the country recently.
The protests took a violent turn on Saturday with some demonstrators attacking the police and an ambulance. The riots in Rotterdam were so violent that the mayor could only describe it as "an orgy of violence".
The Hague also witnessed a wave of violence that saw hooded rioters setting fire to bicycles and causing enough havoc to cause the city's officials to announce an emergency order to bring calm back to the city.
Although the number of arrested people are still sketchy, there have been speculations that the police rounded up more than 28 people amidst the chaos. Five police officers were also reported injured during the fracas.
Seye Omidiora is a passionate football writer and pundit whose deep appreciation for the beautiful game exceeds the usual. He is currently a columnist for Goal Africa and has previously written for Vital Football UK, IBCity Info and Opera News.
Pulse Contributors is an initiative to highlight diverse journalistic voices. Pulse Contributors do not represent the company Pulse and contribute on their own behalf.
JOIN OUR PULSE COMMUNITY!
Recommended articles
Abubakar warns FG against increase in fuel price
Fleeing Zamfara bandit kingpin didn't relocate to Kwara - Police
The city of Lagos now has the fastest trains in Africa
FG's lawyer says Nnamdi Kanu vehemently denied being an IPOB member
Guterres calls Obasanjo, commends his effort to restore peace in Ethiopia
Nigerians resident in Japan are good ambassadors – Envoy
Lagos Govt acquires 10-car speed trains for Red Line project
National Convention: No position yet on zoning, APC National Secretary says
AFCON: Nigeria looks forward to 7 wins, Buhari tells Super Eagles