Security tightened ahead of Supreme Court hearing
Heavily armed police personnel, riot control officers, military police officers and sniffer dogs have been stationed at several vantage points to control any chaos that might erupt before, during and after the hearing.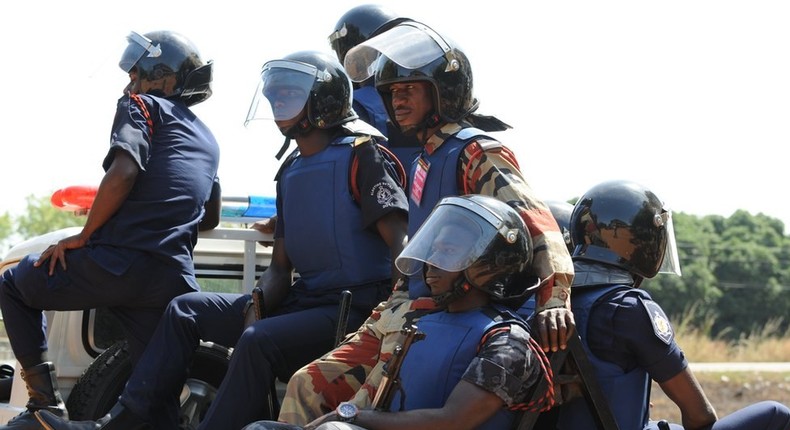 Security at the presence of the Supreme Court has been tightened ahead of the Montie FM hearing.
On June 29, two panelists on an Accra-based radio show were accused of airing threats against Ghana's judges.
Since then, the host of the show and the two panelists have been questioned by the Bureau of National Investigations. Their subsequent appearance at Accra's Supreme Court caused chaos.
Set to reappear today, Monday July 18,  Ghana's security services have also mounted several road blocks to prevent sympathisers of the host of the radio show from besieging the court premises.
The Apex Court is due to determine the fate of the two panelists, Alistair Nelson, Godwin Ako Gunn and the host of the programme on which they made the comment, Salifu Maase also known as 'Mugabe'.
The two panelists are before the Supreme Court after making threatening comments on Accra-based Montie FM.
Alistair Nelson and Godwin Ako Gunn, who were panelists on 'Pampaso', a political programme on Montie FM in Accra on June 29, warned judges of Ghana's highest court to be wary of their conduct in the case involving the Electoral Commission and Mr Abu Ramadan if they did not want to suffer the fate of the three members of the bench who were shot to death and burnt on June 30, 1982 in the era of the Provisional National Defence Council (PNDC).
The Supreme Court adjourned the case to July 18, 2016 after the contemnors argued that they were not served with the writ until the morning of the hearing day, a position which was documented by the court registrar.
Meanwhile, the court has also directed the entire owners of the station to appear before it today.
JOIN OUR PULSE COMMUNITY!
Recommended articles
Withdraw petition against Tinubu and stop messing up - LP faction tells Obi
Tinubu commissions NASS Central Mosque, urges Muslims on humility
Anambra govt launches e-identification cards for civil, public servants
Tearful Ondo Speaker dissolves state assembly
Hajj: NAHCON reads riot act to caterers in Madina, disqualifies defaulter
Court admits Obi's exhibits of 6 states in evidence against Tinubu
Court remands 15 suspects in Enugu for alleged IPOB membership
Enugu tribunal adjourns sitting in Mbah's alleged NYSC certificate forgery trial
We won't fix petrol prices again – NMDPRA