28-year old entrepreneur covers Forbes Africa magazine
He was raised in Ukpor village, 790 km from, Nigeria's capital, Abuja, as the 17th child of a polygamous father.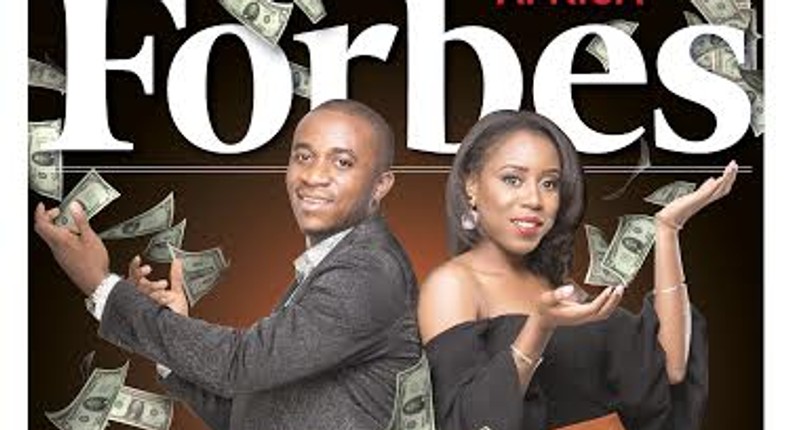 Not many 28 year olds have achieved what Nigeria's Obinwanne Okeke has.
Okeke not only runs a successful company he built from a little more than a computer and employs hundreds of people but he has been on the cover of FORBES AFRICA and the coveted publication named him as one of 30 Africans who may be future billionaires.
"This is the most important list of the year for FORBES AFRICA. If one young African reads it and is inspired enough to start a business it has done its job. Entrepreneurs like Obinwanne are proof that there is hope for Africa," says Chris Bishop, Managing Editor of FORBES AFRICA.
The list took the FORBES AFRICA team nine months to compile. Okeke was chosen out of hundreds of entrepreneurs across the continent. His peculiar story, business size, hard work and potential earned him a spot.
Although he holds a Master's degree in politics and counter terrorism, Okeke opted for a career in business. He runs Invictus Group Limited, a conglomerate in Construction, Oil & Gas and Agricultural development.
A dream and a promise to his mother spurred him to entrepreneurship.
"I became an entrepreneur because of a dream. I say that because I had known this from a very young age that all I needed was to dream and work towards it. Coincidentally, the dream is free," says Okeke.
He was raised in Ukpor village, 790 km from, Nigeria's capital, Abuja, as the 17th child of a polygamous father. He went to boarding school aged 10, lost his father at 16 and moved from one relative to another.
Besides his dream for an empire, a promise to his mother meant hard work and chasing paper.
"I had to take my life into my own hands at a young age. My dream was a better life and most importantly, a house for my mother," he says.
It was hard. Capital was a problem.
"I had to prioritize my dreams and aspirations, for example; I started off with an events and entertainment company for students… then I went off to Australia where I did all kinds of jobs just to survive. Saved up, came home and invested all my savings in my company."
He named his company, Invictus, after one of Nelson Mandela's favourite poems, by William Ernest Henley, about the undefeated and unconquerable soul of a hard worker from an impoverished background, who will not give up.
Okeke's hard work paid off. He has 28 permanent and 100 part time employees across nine companies. Most importantly, to him, he bought his mother a house.
"This is my most proud achievement till date, because of the happiness I see in her face whenever she talks about the comfort in her own house. She has been a huge source of inspiration for me as I went through life and being able to do that for her will always top all of my other achievements."
Roy Paya, Regional Program Manager at Friedrich-Ebert- Stiftung in Botswana, says, "Obinwanne Okeke a passionate Nigerian entrepreneur reaffirms what we have all believed to be the true nature of the average Nigerian –resourceful."
Okeke spends a lot of time shaking hands and making life changing decisions in boardrooms across the world, but his humble beginnings keep him grounded and inspire him to give back.
"I am actively giving back both in South Africa and Nigeria through my foundation; Invictus Foundation which initially started off as a personal charity project. I do work with the Zandspruit informal settlement in Honeydew and make sure that they receive some aid," says Okeke.
History will speak for this great entrepreneur who has written his name in the stars, inspired many young people to take advantage of economic opportunities and expressed his name "Obinwanne" which means "a brother's heart" or a person who cares for his brothers.
Like the man in the Invictus poem, Okeke says he is the master of his fate and captain of his soul whatever the weather.
JOIN OUR PULSE COMMUNITY!
Recommended articles
3 die, 2 injured as diesel tanker explodes in Lokoja – FRSC
Police: We are here for serious business, says AIG
Edo: 114 inmates regain freedom in 3 months
3 killed, 50 injured in train derailment in Missouri
PDP threatens to expose Obasanjo if he fails to clarify his comment on Atiku
2023: Moghalu urges supporters to vote for candidate with same vision
Atiku reacts as Tanko resigns as Chief Justice of Nigeria
Nigerian govt gets threats of mass protest over ASUU strike
IPOB orders sit-at-home, Tuesday as Nnamdi Kanu goes to court