'I have what it takes'- Saraki says he's capable of leading Nigeria
Saraki says based on his antecedents, he's someone who can reach out across political divides.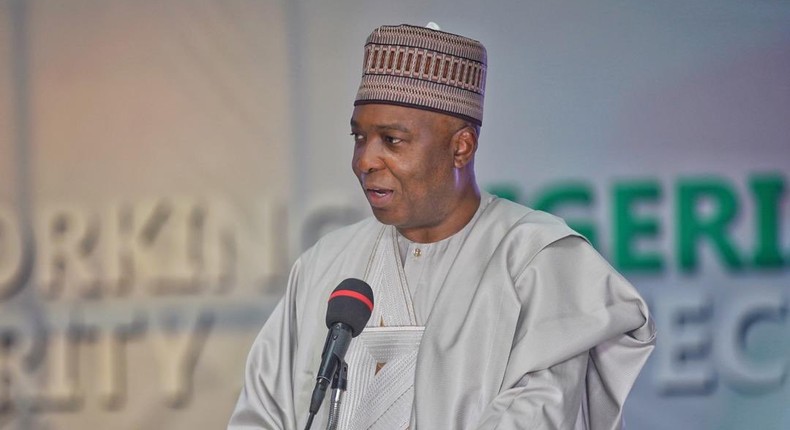 Former President of the Senate, Dr Bukola Saraki says he has all the essential qualities needed to lead Nigeria.
Saraki said this while responding to questions regarding his interest in the 2023 Presidential election during an interview on Channels TV on Sunday, March 13, 2022.
He said, "I believe I have what it takes to lead Nigeria.
"I am not someone who shies away from taking up challenges. I am not someone who does not know the issues or someone who does not have the energy and vibrancy to address those issues.
"More importantly, I am someone that can reach out across the political divide, based on my antecedents. I am someone who can reach out across the ethnicity divide and across the religious divide".
The former Governor of Kwara State, who declared his intention to run for president in 2023 on the ticket of the All Progressives Congress (APC) in January on his Facebook page said that he was still consulting.
During the interview, Saraki re-affirmed his presidential ambition, saying 'there is a strong possibility' for him to run.
On zoning, Saraki said the idea of rotating the presidency between the southern and northern regions is great.
He, however, said finding the best person for the job should be a more important focus.
He said, "When you talk about zoning, yes, you must consider zoning but when we talk about zoning it can't just be an issue of north/south because you cannot tell me that the southwest will say they are disenfranchised in the possibility of political office; neither can you say the south-south.
"But the reality is that the northeast north-central and southeast have not had Presidency or Vice Presidency. But what I'm saying is today, where the country is, with the challenges before the country, we must bring in other issues.
"We did it when we wanted to look for the National Chairman of our party. we went seeking for who we felt was the best that would help the party.
"There are people who can provide solutions to the problems of the country if you give them the opportunity,"
Saraki also dismissed the claim that members of the All Progressives Congress (APC) and the Peoples Democratic Party (PDP) are the same.
He said it is unfair to use one paintbrush for everybody.
JOIN OUR PULSE COMMUNITY!
Recommended articles
Acting Accountant-General replaced 1 month after appointment
Jigawa govt pays N1.2bn to 550 retirees
Insults won't help you – Buhari's aide cautions Peter Obi's followers
Bayelsa gov urges preservation of Ijaw culture in U.S.
LG boss lauds Gov. Sanwo-Olu on projects in Epe
Judge's absence stalls Ayo Fayose's 'money laundering' trial
Outrage as Nigerian lawmaker beats up journalist during interview
FG to recruit 1 million Nigerians for 2023 census – NPC
NYSC speaks on 'involvement' of corps member in theft of PVCs