PDP is what happens when there's no more money to steal
The PDP is searching for its lost soul. The party has got to look deeper to find it.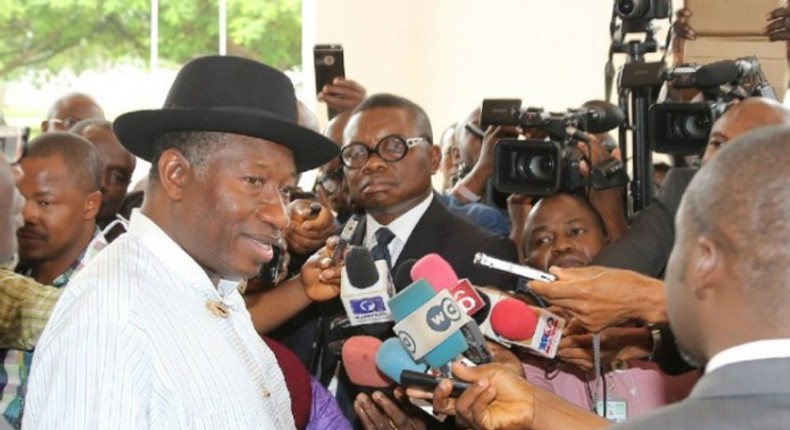 The Peoples Democratic Party (PDP) plunged to lower depths this week.
Former President Goodluck Jonathan was so concerned by the infighting within his party, he convened a meeting of  PDP big boys at the Yar'adua center in Abuja last Thursday.
In attendance at this meeting were Rivers Governor Nyesom Wike,Governor Ayo Fayose of Ekiti State, Board of Trustees Chairman Walid Jibrin, Deputy Senate President Ike Ekweremadu and many other party chieftains.
To complete the circus were factional PDP Chairmen Ahmed Makarfi and Ali Modu Sheriff.
The PDP has been a house in shambles since it lost the presidential election in 2015.
Stripped of free oil money and proceeds of corruption, Nigeria's former governing party has found survival difficult outside the power corridors.
In May of 2016, the PDP held parallel conventions in two cities. Such has been the state of its disarray.
Two national chairmen in Sheriff and Makarfi, emerged parallel leaders from both conventions, each ready to tear the other to shreds.
Several court cases after, Sheriff and Makarfi are still battling it out over who should be regarded as the authentic Chairman of the PDP.
They've both cost the party elections, along the way.
It's a spectacular fall from grace for a party which controlled a chunk of Nigeria's 36 States and prided itself as Africa's biggest party, just a couple of months ago.
These days, the PDP's famous Wadata plaza office in Abuja has been ceded to Cockroaches and Spiders, with cakes of dust lining the furniture.
"We shall overcome the challenges and I can assure you that the PDP will rise again", Jonathan promised feebly, after presiding over a meeting where Sheriff had a shouting match with Wike before staging a walkout.
One unnamed source who spoke to Punch newspaper, described the altercation between Wike and Sheriff this way:
"The argument became so ferocious that Sheriff and Wike had to stand up, pointing fingers at each other while Jonathan looked on with bewilderment.
"The former President tried to pacify them but there was nothing he could do".
Addressing the media outside the Yar'adua center, Sheriff said he wasn't going to be part of a meeting in which he hadn't been recognized as authentic Chairman.
Sheriff also demanded respect from Jonathan.
"Well, I respect Jonathan for calling for the meeting. He is a former President, but as of today, I am the most senior member of the party.
"Therefore, if I respect him, the respect must be reciprocal. You can't call me for a meeting and say I cannot address the meeting as national Chairman of the party.
"As the national Chairman, we move on. We have a programme initiated by (Gov. Seriake) Dickson and we are continuing with that. Anything outside that, I am not party to it", Sheriff flared, before breezing past the horde of journalists; flanked by members of his faction.
This was the PDP washing and airing its dirty linen in public—in spectacular fashion.
And the rest of the world should be forgiven for having a laugh at the party's expense.
"We may have had shortcomings while in power, but we also recorded significant achievements and great milestones", Jonathan said, before going on to list milestones only he could regard as milestones.
Nigerians remember the PDP differently. They remember the PDP as a political party which stole Nigeria blind for 16 years from the center.
Jonathan has promised to set up a 40-member committee whose mandate would be to restore unity in his party.
But the signs aren't looking good.
Like all political parties in the land, the PDP was structured to feed off the polity without a shred of ideology knitting the different egos together.
The money was what held the party together all those years.
It is little wonder that without access to federal coffers, the PDP is finding it difficult to stop Sheriff from disrespecting Jonathan and wrestling Wike.
The PDP now has five options before it:
1. Genuinely reform, rebrand and reposition the party as an alternative platform to the APC (which isn't any better, by the way).
2. Infuse some ideology into the party and de-emphasize money politics.
3. Proffer some genuine solutions to problems bedeviling the nation at this time and drive conversations around the economy, security, education, electricity supply etc.
4. Whittle the influence of powerful State Governors and hand the party to stakeholders at the grassroot.
Jonathan did his best to call forth imaginary and shallow achievements from thin air when he went on and on about how good the PDP was to Nigerians from 1999 to 2015.
However, if the PDP intends to survive beyond the forthcoming governorship contests in Ekiti, Osun and Anambra, it has to do more than convene rowdy meetings and parrot invisible achievements.
The party has to have a genuine conversation about its soul.
Last time anyone checked, that soul had been handed to the devil.
JOIN OUR PULSE COMMUNITY!
Recommended articles
Soldier takes pregnant wife to hospital for delivery, beats up 2 nurses, breaks one's leg
Socialite Cubana Chief Priest accuses BBNaija's Maria of 'stealing' his sister's husband
7 weird things that happen during sex, and they're normal
Paul Okoye shares Cubana Chief Priest's phone numbers as he continues to defend BBNaija's Maria
10 countries where prostitution is legal
Davido and Chioma spotted together for the first time since rumoured breakup
Pulse Exclusive : New court documents claim BBNaija's Maria's alleged partner is in court to dissolve marriage
Actress Esther Nwanchukwu calls Junior Pope her 'man friend' months after she tattooed his initials on her body
7 things every woman wants to hear during sex