A former Deputy National Chairman (North) of the Peoples Democratic Party (PDP), Gamawa Babayo, has joined the ruling All Progressives Congress (APC) a day after he was suspended.
The PDP's National Working Committee (NWC) had reviewed a petition against Babayo and "found merit in the petition on allegation of dereliction of duty and anti-party activity", according to a statement released on Monday, January 7, 2019.
A day later on Tuesday, January 8, Babayo was one of the PDP defectors who met with President Muhammadu Buhari at the Presidential Villa to dedicate themselves to his re-election campaign.
Babayo was accompanied by Bauchi State governor, Mohammed Abubakar, in a meeting that was reported to have lasted for around 30 minutes.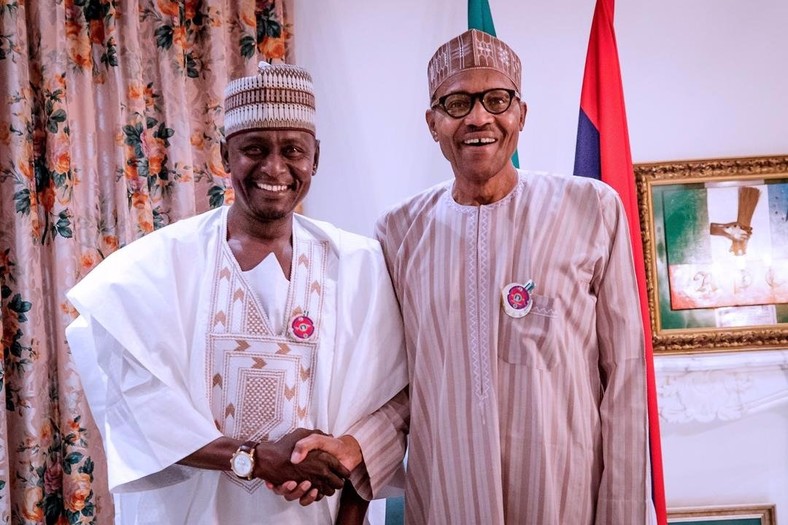 While speaking to State House correspondents after the meeting, Babayo said he has no regrets joining the APC. He accused the PDP of high-handedness in his suspension and said his former party would regret losing him.
He said, "As a Nigerian, I want what is good for the country; I want good image for my country and I want to see development and progress of the country.
"And I have been saying it, as a politician, I play my politics not blindly. Whenever thing goes right or wrong I will say it the way it is.
"I want to call on them to check their secretariat. If they are in politics they should know what is happening on daily basis at the secretariat - what comes in and what goes out.
"They should check their mails and they will know the position of Sen. Babayo Gamawa before their action of today. I have no regret for defecting from the PDP and they would regret their action by God's grace."
President Buhari also met with a delegation of the North East political stakeholders including the defectors led by Umar Bukar Bolori on Monday.
Buhari thanked the defectors for demonstrating their support and love to him and the APC.
He urged them not to relent in their efforts aimed at ensuring electoral victory for the APC in the forthcoming general elections.
2019 presidential race
Buhari, 76, is seeking re-election at the February 16 presidential election with former vice president, Atiku Abubakar, of the Peoples Democratic Party (PDP) as his biggest opponent.
They face competition from other candidates including Kingsley Moghalu of the Young Progressive Party (YPP), Obiageli Ezekwesili of the Allied Congress Party of Nigeria (ACPN), Fela Durotoye of the Alliance for New Nigeria (ANN), and Omoyele Sowore of the African Action Congress (AAC).
Others are Tope Fasua of the Abundance Nigeria Renewal Party (ANRP), Eunice Atuejide of the National Interest Party (NIP), Adesina Fagbenro-Byron of the Kowa Party (KP), Chike Ukaegbu of the Advanced Allied Party (AAP), Hamza Al-Mustapha of the People's Party of Nigeria (PPN), Obadiah Mailafia of the African Democratic Congress (ADC), and many more.
79 candidates will contest in the election, the highest number ever in Nigeria's electoral history.