Are soldiers plotting a coup to unseat acting president?
The military high command has warned soldiers against entertaining funny ideas as the nation enters three weeks of Buhari's medical vacation.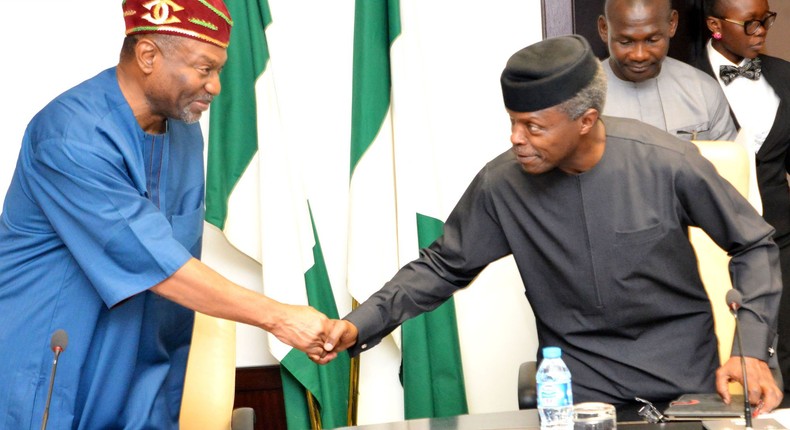 There are certainly whispers of a
Whispers so loud, the military high command had to issue a strongly worded statement before sunset on Tuesday, May 16.
"The Chief Of Army Staff (COAS) has received information about some individuals approaching soldiers and, on the basis of that, he has warned such persons to desist from this act", the Director, Army Public Relations, Brig Gen Sani Usman, fired in a press statement which was made available to Pulse.
COAS Tukur Buratai received intelligence reports about some soldiers working in cahoots with politicians to oust acting President Yemi Osinbajo, Pulse has learned from Aso Rock sources who pleaded that their identities be concealed for this story.
"There are certain politicians and members of the famous Villa cabal who have been holding clandestine meetings with soldiers. At a time like this when is away, meetings of that kind should raise eyebrows and that's what we've been trying to unravel", a high ranking intelligence official with one of the nation's security outfits, confided in Pulse.
President Buhari embarked on a follow-up medical vacation to the U.K on May 7.
The nation's number one citizen is gravely ill and he admitted as much on March 10, 2017 when he returned from his first medical vacation of the year; after spending some 50 days holed up in a London apartment.
Buhari's frequent medical trips abroad, his inability to attend federal executive council meetings and his increasingly gaunt if frail demeanour, have invariably led to a jostle for power in Abuja.
While a few soldiers may have been sounded out regarding a military style takeover (an action that is now unpopular around the globe and on the continent) in the event that the President is unable to continue, a handful of politicians are said to be scheming and plotting for Buhari's successor, with the 2019 presidential contest in the horizon.
Nigeria has now enjoyed close to 20 years of an unbroken democratic experience since Chief Olusegun Obasanjo was voted President on the platform of the PDP in 1999.
Obasanjo's emergence in civilian garb heralded the birth of a fourth republic.
Sani Abacha, Nigeria's penultimate military ruler, passed away on the throne in 1998; sparking widespread jubilation and celebrations on the streets.
Coups were commonplace in Nigeria in the '60s, '70s, '80s and parts of the '90s--an era of the nation's history when jackboots and guns often whipped a scared citizenry into line.
Military rule has since been considered an aberration in Africa's most populous country, with soldiers repeatedly reminded that their place remains in the barracks and their role outlined as safeguarding the nation's territorial integrity.
Following latest disquiet occasioned by Buhari's absences however, a few soldiers are beginning to cultivate sinister ideas, Pulse was told.
Army Chief Buratai has however warned of a clampdown and punishment should any military personnel be found working with politicians to enthrone another dictatorship.
Buratai "reminded his troops that the Nigerian Army is a thorough professional, disciplined, loyal and apolitical institution that has clear constitutional roles and responsibilities.
"Therefore, he seriously warned and advised all officers and men interested in politics to resign their commission or apply for voluntary discharge forthwith.
"Any officer or soldier of the Nigerian army found to be hobnobbing with such elements or engaging in unprofessional conducts such as politicking, would have himself or herself to blame", Buratai warned.
Former military rulers Obasanjo, Ibrahim Babangida, Abdulsalam Abubakar and Theophilus Danjuma have also been holding clandestine meetings of their own.
Pulse was last told that these meetings may not be unconnected with Buhari's ill health and what to do in the event of the President's incapacitation.
Osinbajo is dutifully carrying on with the responsibilities of President in Buhari's absence, however.
His office has told Pulse that he isn't paying any attention to rumours bordering on some old fashioned military putsch.
An aide of the Vice President told Pulse that, "as you are aware, there's no power vacuum at the center. We are working very hard to implement the President's policies and programmes".
JOIN OUR PULSE COMMUNITY!
Recommended articles
Troops bomb Boko Haram Commander, 27 others in Borno as bandits attack
2023: Nigeria's Presidency not about one religion – CAN
Our votes are against those who underrate Rivers state – Wike subs Atiku
Dariye, Nyame regain freedom, 4 months after Buhari's pardon
BREAKING: WAEC releases 2022 WASSCE results
You are a failure made by powerful politicians – Jandor replies Sanwo-Olu
El-Rufai and Atiku's spokesman in a mild political tweet-fight
Certificate Forgery Suit: APC to be served as Bola Tinubu remains unreachable
Court to hear 'certificate forgery' suit against Tinubu next month