Ifeanyi Ubah warns IPOB election boycott helps no one
Ubah says a boycott of the election can undermine democracy.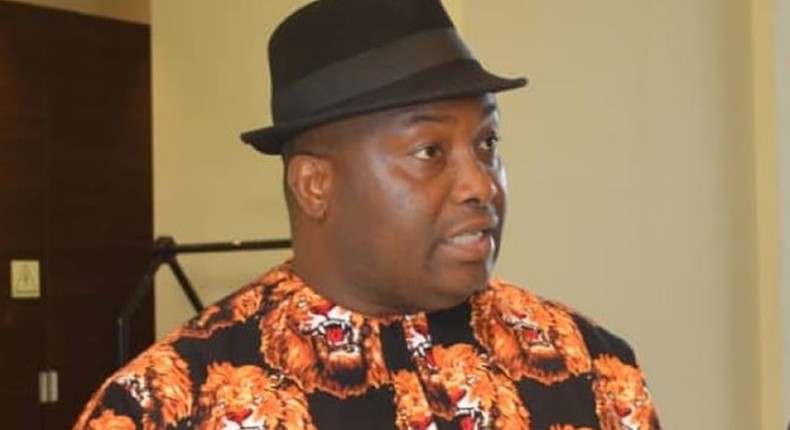 Senator Ifeanyi Ubah has warned voters against boycotting the November 6, 2021 Anambra State governorship election.
Separatist group, the Indigenous People of Biafra (IPOB), has threatened to impose a stay-at-home lockdown across the south east region, an action that will disrupt the election.
The group's spokesperson, Emma Powerful, said last week the lockdown will be imposed between November 5 and 10 if the movement's leader, Nnamdi Kanu, is not released from detention.
The threat, and past threats to boycott the election, has raised concerns about the election, especially in light of the insecurity crisis that has also dogged the region this year.
Ubah, a governorship candidate of the Young Progressives Party (YPP), said in an interview on Monday, October 25 that such an action can undermine the nation's democracy.
He said, "Election is a constitutional issue, and if anybody loves our people they shouldn't be saying there's no election.
"If there's no election, there'll be voter apathy and somebody might come in and do something that does not augur well."
The lawmaker recently filed an application before a court to allow him access to Kanu who's closely-guarded in custody of the Department of State Services (DSS).
He said on Monday that he wants to speak to him to appeal to his followers whom he described as 'a very big force'.
"They have their way in the media and people are listening to them," Ubah said.
Kanu last week pleaded not guilty to an amended seven-count charge including terrorism and treasonable felony.
JOIN OUR PULSE COMMUNITY!
Recommended articles
NLC backs direct primaries, urges Buhari to sign Electoral Act Amendment Bill
Saudi-bound businesswoman excretes 80 pellets of Cocaine at Abuja airport
5 bandits killed in Kaduna communities
JAMB takes over collection of registration fee from CBT centres to end extortion
Nigeria records 1 COVID-19 death, 110 new infections
Management says Lagos Airport parking lot is safe despite picture of cracked pillars
Omicron: NCDC says it's monitoring emerging evidence on new COVID-19 variant
Women Affairs Minister calls for castration as punishment for incest
President Buhari mourns renowned Kano businessman, Buhari Daura