5 things Lagos state governor said 24 hours to APC primaries
Ambode had refused to back down or support the candidacy of Jide Sanwo-Olu claiming he will test his popularity at the primaries.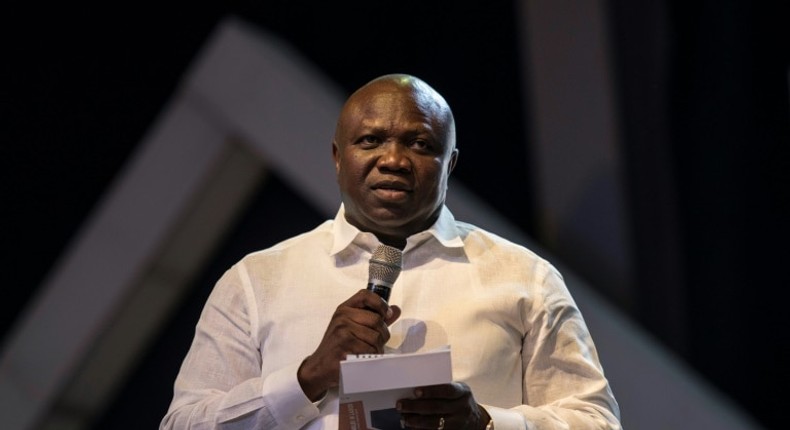 Until recently, there were beliefs that the Governor, who seemed to have fallen out of favour with majority of the party members in the state, will secure a second term without much hassle.
As the National Chairman of the APC, Adams Oshimohole announced the rescheduling of the primaries till Monday, October 1, 2018, the aspirants are beginning to tell members how competent they are.
Ambode had refused to back down or support the candidacy of Jide Sanwo-Olu claiming he will test his popularity at the primaries.
monitored the World Press Conference which held at the Lagos House in Alausa, Ikeja on Sunday, September 30, 2018.
Here are five important things you should know about Governor Ambode's speech.
1. I have served the poor and masses
I have done everything in the last three and half years to serve people selflessly and to serve the poor. And that is why you see that most of the projects we are doing is about alleviating the sufferings of the poor and the only thing is for us to continue to do that in next four years.
Do not let us go too far but we know and that is the truth, We don't want to talk about all the things that we know but we know that our leaders should have a rethink because the truth is this, I will not stand here on the mandate of Lagosians and allow our great party, APC to fritter away the opportunity by putting in somebody that the opposition will take out because of lack of credibility.
So, I think our leaders should have a rethink, this is not about me but about the greater opportunity which APC stands for to change the progress of Nigeria together.
3. On Sanwo-Olu the main contender
In the last two or three weeks, they have been putting a lot of campaign of calumny in the social media and also disparaging our personality and our character but when you see it, we have never responded and have never abused anybody because we believe that there is always a reason for us to come together as a family. We are a one happy family in APC.
Now the truth is this, the candidate, the aspirant that they are putting up to compete against us is not a fit and proper person to take this position and that remains the fact, this is the truth. Party leaders and even party members have been misled to understand that this is a better candidacy than myself.
This particular aspirant as you all know, you can go and check, the records are there. This is somebody that has been arrested for spending fake American Dollars in a night club in America and he's been detained for months with mugshots before all these campaign started.
It's also known that he doesn't have the competence to do what he's been promoted for saying he is going to do, he doesn't have the competence to do what he is saying he can do. The records are there in Gbagada General hospital, this is somebody that has been rehabilitated before.
4. On the Lagos APC governorship primaries
The primaries is taking place tomorrow, we believe strongly, even though tomorrow is our Independence Day, it is important that everybody is prepared for the primaries. As we speak, the national headquarters of our party has sent the election committee to Lagos but I am yet to receive the guidelines. I am an aspirant in tomorrow's competition.
I believe strongly that the preparations are still ongoing but there are some things that we really need to iron out and I believe strongly that the chairman of our great party, Comrade Oshiomhole will be able to correct some of the things that we have noticed.
We are committed to the outcome of the primaries, we are committed to the tenets and principles of our great party but what we will not want to accept is to disenfranchise all the millions of people that we have been able to bring into the APC fold just by our mere performances. So, what we heard or what we have is that there is a register that is being brought to the state of which only include those that are registered with APC since 2014.
What about all the millions of other supporters of APC that we have brought into the fold till date? Now they say, this is the membership slip that I have, I don't have a membership card, so are you saying that me as a governor will not be entitled to vote tomorrow?
The national headquarters and electoral committee need to make adjustments and amendment to this. All the people that have registered as members of APC should be entitled to vote in the direct primaries, that is how we entrench the democratic values that we are all preaching.
So, if someone like me can be disenfranchised because I don't have a card, what happens to other members of APC? We believe that these things can be corrected and we should allow everybody to come out and exercise their civic duties and right and choose whoever they want as their gubernatorial candidate for APC. So I plead with the NWC, with our party chairman and all those interested in this whole process to ensure we do the right thing. And I believe we will come out triumphant.
5. On  alleged rift with Tinubu and impeachment rumour
There is no war here, it's just about us trying to preach the tenets of Democracy. if we say we are democrats, let us practice the tenets of democracy till the end, that is what we must bequeath to the generation coming behind us. I am not willing to respond to the questions on rifts, there is no rift. The truth is the whole story is not about the progress and development of Nigeria only but more about the progress and development of Lagos. I have done everything to make sure that these values are the values that I preach, they are the values that I practice and God will help us.
JOIN OUR PULSE COMMUNITY!
Recommended articles
Police say no helicopter crash in Bauchi
Allah knows best - Buhari tells Zamfara people over cancelled visit
PDP lied on leaving $550bn economy - BMO
Buhari says he's overwhelmed by security situation in north-west
Buhari's proposed visit to Zamfara cancelled because of poor weather
Party primaries: Police intercept 12 more hoodlums in Ekiti
U.S. pledges to support Nigeria's fight against modern-day slavery
Father bags life sentence for defiling, impregnating teenage daughter
Gov Okowa says Dennis Osadebay University will commence academic activities next month