2023: Oshiomhole says Governors contribute to election violence
Oshiomhole says the weapons that unemployed youths use during elections are not easy to obtain.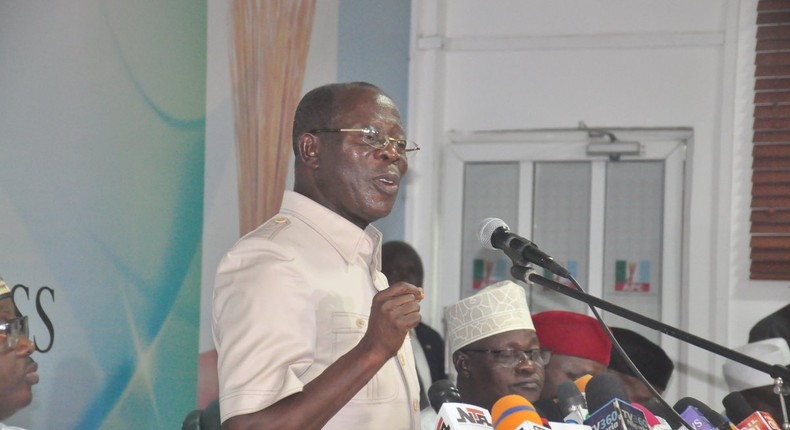 Former Governor of Edo State, Adam Oshiomhole says governors usually contribute to election violence in the country.
Oshiomhole said this during the citizens elections dialogue hosted by YIAGA Africa and the United Nations Development Programme (UNDP) in partnership with Channels TV on Tuesday, October 4, 2022.
The former National Chairman of the ruling party questioned how unemployed youths get weapons to disrupt election activities.
According to him, weapons like AK47 are not easy to obtain.
Oshionhole said: "When I was a governor and I mean this, you can ask [former] President Goodluck Jonathan, I did say at a meeting at the villa that sometimes governors contribute to election violence because AK-47 is not as cheap as buying akara.
"And when you see many young men who are unemployed wielding AK-47s, who is providing them? So the political leadership has a responsibility, we need to take that responsibility.
"If 500 voters choose to resort to violence, how many policemen do you want to deploy? Let us accept that as political parties, we agree that in the course of the campaigning, at every point, we must emphasise that this election is about freedom to choose and that what is more important is the process, not even the outcome.
"Let us resort to telling our leaders that they must preach violent free elections. I insist that all of us here have a duty. Nigeria is much more than the subtotal of all the political parties."
Meanwhile, the presidential candidates and national chairmen of their political parties have signed a peace pact to commit themselves to a peaceful campaign for the 2023 election.
JOIN OUR PULSE COMMUNITY!
Recommended articles
Food security: Buhari directs NALDA to buy additional 5 spraying aircraft
No PVC was destroyed during attack on INEC facilities in Osun – REC
Don't bring babies to lecture rooms, Ibadan Poly warns students
I will not probe Okowa's govt if elected in 2023 - Omo-Agege
Minimum wage may rise to N80,000 under Peter Obi - Labour Party
Breaking: DSS gives NNPCL, marketers 48 hours to end fuel scarcity
I'm ready to debate from morning till night - Tinubu
Suspend cash withdrawal limits immediately - Reps tell CBN
Buhari will leave Nigeria better than he met it, says Gambari