A former spokesman of the All Progressives Congress (APC), Timi Frank has called on the chairman of the Independent National Electoral Commission (INEC), Mahmood Yakubu and the Chief of Army Staff (COAS), Lt. Gen. Tukur Buratai to tell Nigerians if they did not meet with President Buhari.
On Sunday, February 11, 2019, Frank alleged that the President held a midnight meeting with Yakubu, Buratai, Amina Zakari and some other people on Saturday, February 10, 2019 at the Defence House, Abuja.
The former APC spokesman said the agenda of the meeting was to finalise the plan on how to rig the upcoming elections.
Army calls for Timi Frank's arrest
The Army, in its response to Frank's allegation, called on the police to arrest the former APC spokesman.
The Army's Director Army Public Relations, Colonel Aliyu Yusuf described the allegation as false.
Yusuf also said Frank should be prosecuted for spreading fake news.
I am not intimidated
The former APC spokesman however fired back at the Nigerian Army saying that he stands by his words.
"I cannot be intimidated. I am not afraid of being arrested. Nigeria needs free, fair and credible elections necessary to ensure peace, sustain democracy and national development.
"Let me add that INEC owes Nigerians and the world a sacred duty to allow votes during the forthcoming elections to count rather that its Chairman openly taking sides by attending suspicious meetings with PMB and wearing APC's campaign symbols.
"Let Mahmood Yakubu prove to Nigerians that he is not pro-APC by allowing for transparency and impartiality of his staff during the presidential and National Assembly Elections on Saturday 16th February and the Governorship and State Assembly elections on March 2nd.
"Let the Chief of Army Staff prove to Nigerians that the military has no role in the forthcoming elections by stoping his men from being used to intimidate and arrest opposition leaders or aid the rigging in favour of the APC.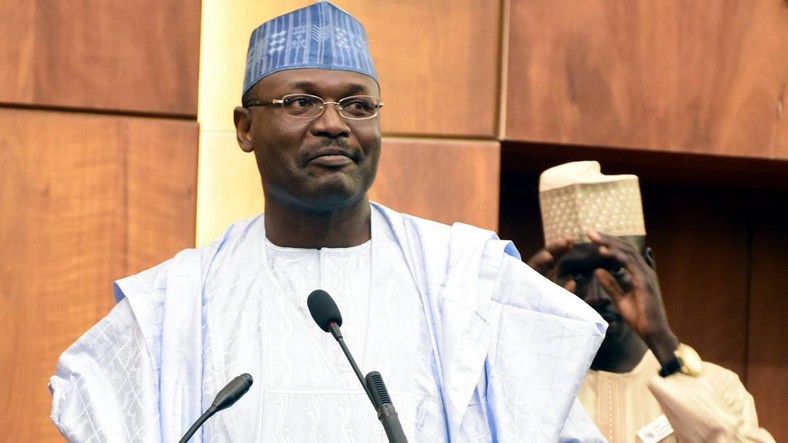 "Let the COAS tell Nigerians that the ongoing massive deployment of military personnel to opposition strongholds across the country is not meant to intimidate opposition leaders in order to pave the way for the APC to unduly win as they did during the Ekiti and Osun states gubernatorial elections.
ALSO READ: Timi Frank writes US, UN, others over Onnoghen suspension
"I stand by my statement on the highly suspicious midnight meeting with PMB and his top aides. No amount of threat or intimidation will stop me from raising the alarm when actions inimical to the peaceful and successful conduct of the forthcoming elections come to play.
"Let me once again call on INEC to conduct free, fair and credible elections on February 16 and March 2, 2019. I also urge the military to steer clear politics by concentrating on their core constitutional mandate before, during and after the 2019 elections."
The Nigerian Army also warned those it described as mischief makers not to drag the institution into political issues.