Woman gets a fine for bragging about killing an animal
A woman has agreed to pay a $2,000, fine for killing a deer after the end of hunting season in Oklahoma, where it is considered illegal.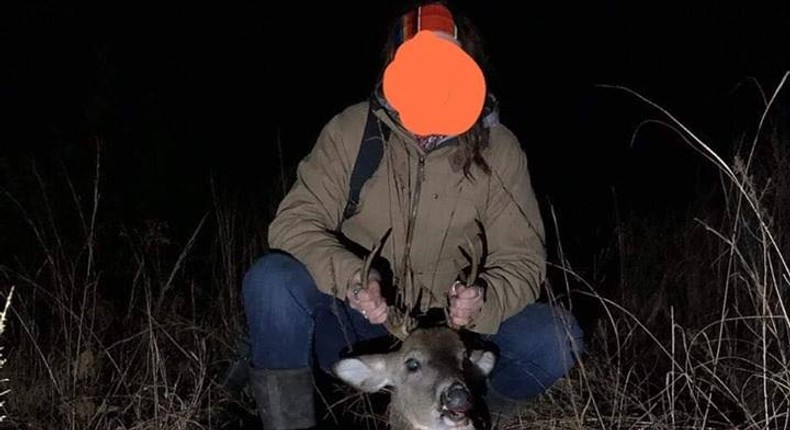 Her secret got exposed while flirting with Warden Cannon Harrison, who she met on a dating app. 
According to the BBC News, Harrison was able to get a hold of a picture showing late 2018, kill as well as her personal details that helped to locate her on social media. 
Some wardens showed up to arrest her at home the morning after the chat with the officer.
"She has already pled guilty and paid multiple fines," Oklahoma Game Wardens shared on Facebook.
In the post published on Monday, January 7, 2019, the woman (face covered) poses with her prize.
The headless animal is also captured alone in a photo that invited criticism in the comment section.
"I hate Trophy Hunters. I think they're little people that try to feelbig by hurting animals," says one Facebook profile.
JOIN OUR PULSE COMMUNITY!
Recommended articles
Electoral Act Amendment: Why we didn't override Buhari - Reps Spokesman
Alleged war crime: African lawyers vow to stand by Nigerian Army against ICC
Reps move to tackle rising cases of mental health issues
NAPTIP, DSS operatives rescue Burundian woman, 3 children trafficked to Imo
NLC rejects proposed petrol price hike, says it'll send many Nigerians to early graves
INEC to activate additional 1,862 centers to boost voter registration
FCT minister condoles with President Buhari over Pasali's death
Former Akwa Ibom commissioner says Nigerians want Jonathan to return in 2023
N800 levy: Lagos transporters react, says passengers will bear the burden