Dear Toke Makinwa!
"Toke Makinwa, go to Lagos stadium and take several seats. Just sit down and check how long you've come in your life. "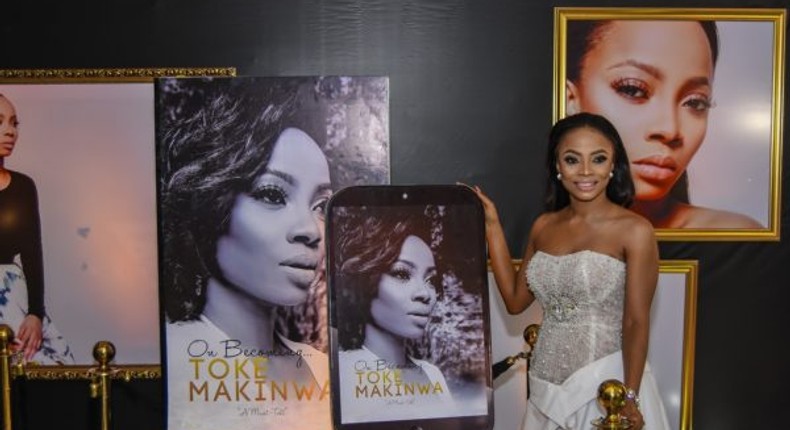 Honestly, the name Toke Makinwa has always given me a sour taste somewhere in my heart.
Not because her stupidity is a force to reckon with or because she bleached her salvation away. No! Maybe it is so because she is making it obvious that she wants to be the Kardashian of the Nigerian entertainment industry but she isn't following the steps by releasing a sex tape first. She's busy skipping stages.
Listen, I'm no fan of marriage especially when common sense is alien. We've seen many celebrity marriages go south in a horrendously horrible way. All of them were hits. From the first person to Tiwa. All were hits on their frail egos. Now, the bleached nitwit wants to join the band wagon in a different way that I find unintelligent.
First, whatever her husband did was and is wrong. He cheated… isn't that what men are all about? The chase for variety. I didn't hear of any domestic abuse. Or maybe it's in her new book.  (Soon Lagos bestseller). This morning, I saw on Linda's blog where she said her husband gave her STI. She event went on to call the name of the woman he cheated with. Anita was the name (I hope not Uncle Chris's Anita).
Second, when she found out the douchebag was cheating, what happened to moving on? Like, what just happened to leaving that situationship before it escalated? She lost protection of herself because of a man which is a wrong approach to life from a practical point of view.
Thirdly, I find it disturbing when I see 'strength' and Toke used in the same sentence. Isn't that a grammatical blasphemy? Toke is many things but strength is obviously not one of them. A woman with a glaring esteem issue strong? Shoot me already please. Your wedding was cancelled three times and you went on to marry the man all because of your nagging insecurity? I shake my head in different tempos.
I find this drama rather ridiculous because this is someone who was once gushing over Maje on social media. Someone who slept on the same bed with Maje. Someone who has traced your nudity with his hand. Someone who you have had in your mouth… Now, this is where it has landed to. Did I mention that Toke actually bleached for this young man? This is an engaging advertisement of all shades of silly.
Next, she writes a book where she's crying foul like a child denied ice-cream on his birthday. And people will actually buy that book. (Anyway, if people could buy the change Buhari sold months back why not?)
I personally believe the book should win a Nobel Prize. Maybe in cluelessness or something worse. I will personally write the Nobel organizers and plead on my sisters' behalf. She deserves this. Her resilience in misbehavior should be applauded.
Toke Makinwa, go to Lagos stadium and take several seats. Just sit down and check how long you've come in your life. Help yourself! Or, raise an alarm that you need help. Stop harming yourself by forming 'I can fix this'. The only thing you've been able to fix is your skin. So I doubt if you can fix this because this situation is darker than the skin you toned.
JOIN OUR PULSE COMMUNITY!
Recommended articles
EFCC arrests former Speaker Etteh over alleged contract fraud
President Buhari congratulates new Somali leader
2023: Tinubu to dump APC if ...
2023: Aspirant gives N40m cash, gadgets, others to 27 wards in Imo
2023: INEC cautions political parties against non-transparent primaries
PDP gets new secretariat in Lagos
JAMB disclaims error in its scoring system, says no plan to organise another UTME
Death toll in Kano explosion rises to 9
Oil price hits $115 a barrel — highest in seven weeks