Lady closely misses death while using loaded gun for TikTok video (watch)
A young lady had a close shave with death after a gun fully loaded with ammunition went off and nearly blew off her head while she was showing it off while recording the act.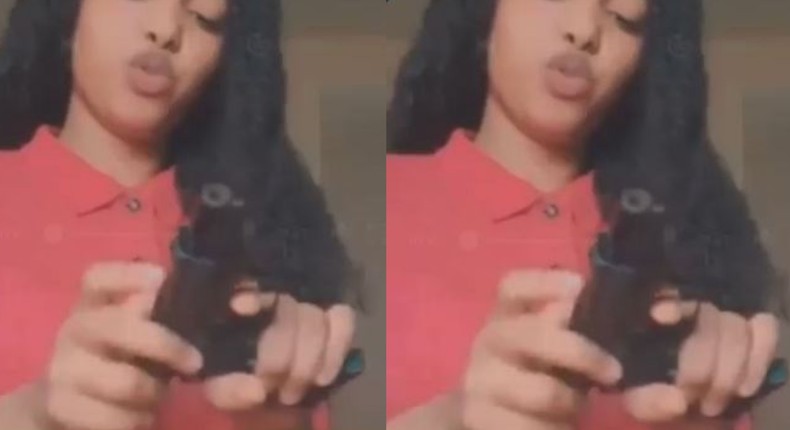 A video of the heart-stopping incident was uploaded to social media, and it has gone viral and sparked numerous reactions.
The Caucasian lady is seen in the video wielding a pistol, with a little child in the background while she points it forward and cocks it. She then raised it and pointed it at her head before accidentally pulling the trigger.
Before she could say anything, the gun went off, almost hitting her in the head.
The incident left her in both shock and fear. She is seen moving from one end of the room to the other repeatedly in a state of confusion.
The little child who was present in the room before the gunshot could equally be seen moving around in fear as the bullets went straight into the ceiling of the room.
It is unclear why the lady chose to use a gun loaded with live ammunition for such a stunt, which nearly caused her death, and also exposed the little child to danger.
If she had done that in Ghana, she would have had questions to answer from the Ghana Police Service.
Last year, hip-hop musician Samuel Adu Frimpong, popularly known as Medikal, made a video of himself displaying a pistol.
The police arrested him on October 21 of the same year and prosecuted him. An Accra Circuit Court later convicted him in February 2022 and fined him GHC 3,600.
JOIN OUR PULSE COMMUNITY!
Recommended articles
2023: PDP urges members on peaceful, non violent campaign in Cross River
We`re winning war against terrorism, others – Chief of Air Staff
We've disbursed N15bn for Lagos-Badagry Expressway reconstruction – NNPC
Buni performs ground-breaking for N12.2bn road project in Yobe
Kwankwaso dismisses rumoured merger, describes it as absolute nonsense
No going back on withdrawal limits policy, Emefiele insists
Food security: Buhari directs NALDA to buy additional 5 spraying aircraft
No PVC was destroyed during attack on INEC facilities in Osun – REC
Don't bring babies to lecture rooms, Ibadan Poly warns students