Elderly man apprehended for stealing pants (Video)
Residents in Ikeja on Thursday apprehended an elderly man for allegedly stealing pant from where they were spread to dry.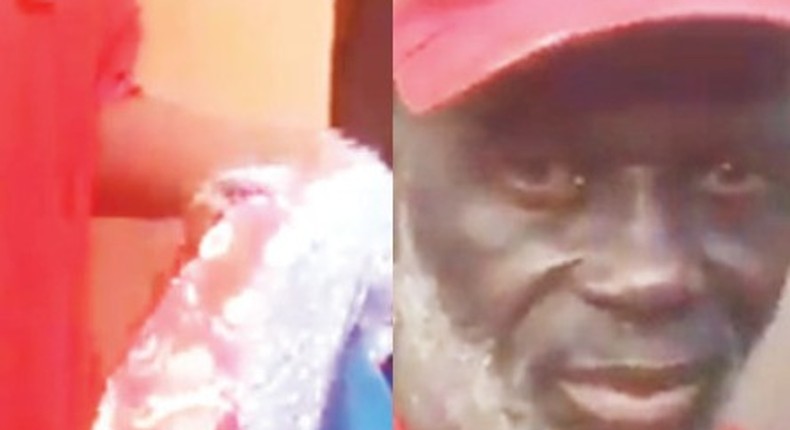 He was caught while collecting the pants by some residents who were carefully observing him from their residence.
It was reported that the elderly man had initially threatened to deal with the people that confronted him requesting him to disclose the content of the bag he was carrying.
A witness, Bayo Ojo, said bras, pants and other clothing items were found in the bag when it was eventually opened.
He said, "We were upstairs and all of a sudden, one of us, Tunde, saw a man picking up bras, pants and some clothes that were spread outside.
"When he was done, he looked in different directions to ensure that nobody saw him. As he began walking away with those items, we came down and alerted other residents, who stopped him.
"Rather than being remorseful, the man began threatening that he would deal with us for insulting him.
"When the people asked him to open the bag he was carrying, he bragged that he was going to beat them up. But when the people forced him to open the bag, they were surprised to see bras, pants, and clothes in the bag."
Ojo added that the man was taken away by police officers before the crowd could physically assault him.
JOIN OUR PULSE COMMUNITY!
Recommended articles
Former Lagos SSG Adenrele Adeniran-Ogunsanya is dead
Hisbah confiscates 1,906 bottles of alcoholic drinks in Jigawa
NURTW apologises to Sanwo-Olu over Idumota crisis
Zamfara Assembly lauds security operatives for repelling attack in Gusau
Plateau lawmaker writes Wikipedia, seeks correction of wrong information
NAFDAC bans production of alcohol in sachets, pet bottles below 200ml
COVID -19: NCDC logs 2 additional deaths, 241 new infections
Maya Angelou's appearance on US coin: What this means for the disability community in Nigeria (Pulse Contributor's Opinion)
Group warns PDP against fielding northerner in 2023 presidential election