Angry soldiers assault a friendly civilian for merely saying "you're beautiful" (video)
Soldiers are said to be civilian-friendly but an innocent man has learnt that the saying might not necessarily be true after all.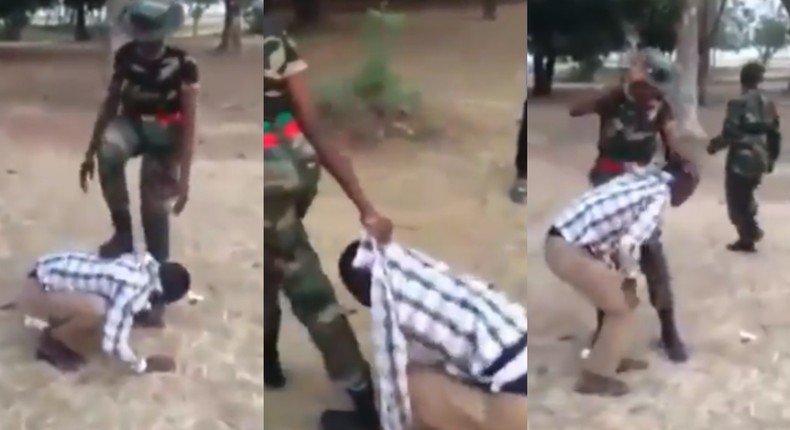 His offence, from the video was that he passed a compliment at one of the soldiers who happens to be a female.
She got offended by the man's compliment that she "looks beautiful".
The video shows the soldiers surrounding the man whiles he kneels on the ground.
The officers could be seen taking turns to slap him several times and kicking him with their boot before dragging him on the ground.
The victim could be heard crying and pleading for mercy but that only infuriated the soldiers more.
The sad incident is reported to have happened in Nigeria.
Some people believed to be civilians could also be seen filming the assault.
JOIN OUR PULSE COMMUNITY!
Recommended articles
Socialite Cubana Chief Priest accuses BBNaija's Maria of 'stealing' his sister's husband
Paul Okoye shares Cubana Chief Priest's phone numbers as he continues to defend BBNaija's Maria
10 countries where prostitution is legal
Davido and Chioma spotted together for the first time since rumoured breakup
Pulse Exclusive : New court documents claim BBNaija's Maria's alleged partner is in court to dissolve marriage
Actress Esther Nwanchukwu calls Junior Pope her 'man friend' months after she tattooed his initials on her body
7 things every woman wants to hear during sex
BBNaija's Wathoni called out by Ani Amatosero for saying women use their bodies to get roles in Nollywood
Ever heard about the massacred souls that haunt Iva Valley in Enugu?