Amazing transformation of 21-year-old man bullied for being born different (video)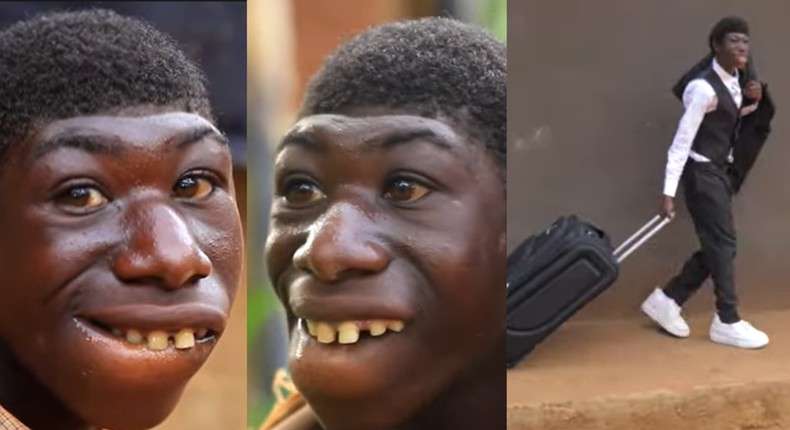 A video report by Afrimax English highlighted the plight of the young man last year.
His story touched the hearts of many individuals and humanitarian organisations and they started donating through a GoFundMe account to help give him treatment and better life.
According to the earlier report that brought him into the limelight, the mother who had lost five children prayed out of desperation to God for another child, saying she would even welcome a disabled child.
Then, when she became pregnant again, she gave birth to Nsanzimana Elie who bullies referred to as a monkey, while others too assaulted him physically.
He had a penchant for living in the forest. He ran away when he saw people and did not like living among members of his community.
His mother had to be chasing him in the bushes to bring him home but he would return to the woods in no time, and this became imaginably a stressful daily routine for the poor woman.
According to the report, the young man is unable to speak but hears.
Now, in the latest video report by Afrimax English, the team has managed to send Nsanzimana Elie to a school for special children where he has been admitted and undergoing training to become useful to his family and society.
Afrimax went further to build a fully furnished house for her mother who was living in a dilapidated house.
Nsanzimana Elie who was shunned by many has suddenly become a suit and tie-wearing 'celebrity' with whom almost everybody wants to take pictures.
JOIN OUR PULSE COMMUNITY!
Recommended articles
'What has happened has happened,' Lagos church backs Sanwo-Olu's 'walk of peace'
UK will continue to process work, student visas for Nigerians despite Omicron ban
Niger Government pays N400m backlog of 2019/2020 debt to NECO
Yahaya Bello gets another endorsement to run for President in 2023
'I facilitated N60 million COVID-19 intervention fund for constituents' - Sen Dadu'ut
FG says no economic development without transportation
Fresh PVC registration applications hit 4.5 million
Lagos State First Lady unhappy about Sylvester Oromoni's death
Terrorist attacks forced 11,500 Nigerians to run into Niger Republic last month