These Exclusive pictures prove Kogi Governor ain't dead
Kogi Governor had been rumoured very ill after embarking on a trip abroad. His aide says nothing can be farther from the truth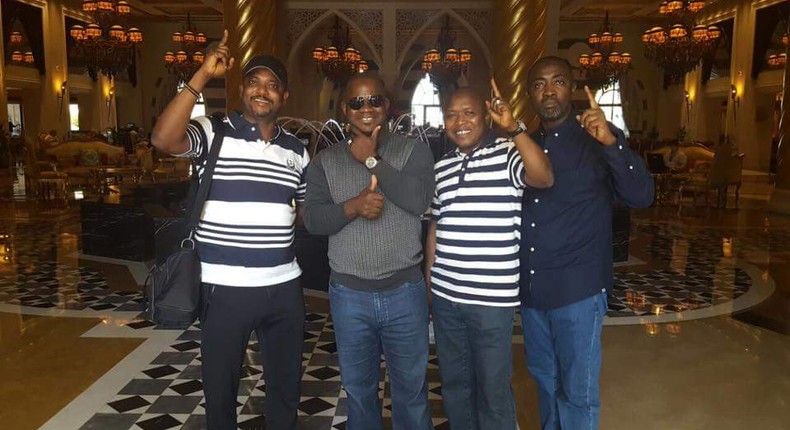 You can blame this on the mainstream media. We wont be running this story otherwise.
That was some scary caption, you'd agree.
The story which was written by Punch reporter in the Confluence State, Gbenga Odogun, read in part: "There was anxiety in Kogi State on Sunday following the non-appearance of in public in the last two weeks.
"Sources said the Governor might have been flown abroad to treat an undisclosed ailment.
"All state functions have been put on hold leaving the with only the duty of receiving visitors on behalf of his boss".
In Nigeria, a story like what you have above often means the public official is incapacitated, suffering from a terminal ailment, on his way to the great beyond or all three.
At about 4pm on Monday, some social media users had pronounced Governor Bello dead.
They had no proof to clutch onto save for the Punch story.
For a moment, it appeared like an eerie silence had descended on some parts of Kogi State or the social media.
Then Pulse reached for the phones.
On the other end of the line was Gbenga Olorunpomi who is the Senior Special Assistant on Electronic Media to the Executive Governor of Kogi State.
"I don't know how this whole rumour started", Olorunpomi yelled in disbelief from the other end.
"Two weeks ago, the Governor wrote a letter to the House of Assembly. There are procedures if you want to travel as a Governor of a State. You write to the to request two weeks leave.
"The lawmakers replied the Governor's letter permitting him to travel. He has been abroad . He'll resume on the 12th of November.
"Only for rumours to start making the rounds that he was sick. And then the Punch correspondent wrote that story without even alluding to the fact that the Governor took permission…without doing any kind of investigative work.
"And Punch now went and put it on their front page. Meaning that they don't even know the procedure for if a Governor wants to leave his State or immediate surroundings".
Olorunpomi added that his Governor is in rude health.
"The Governor is abroad after taking due permission from the House of Assembly. The Governor is not in any clinic or any hospital. He's 100 percent in good health. There is nothing wrong with the Kogi State Governor", said Olorunpomi.
"The Governor is right now with theThe Governor's leave ends on the 12th of November".
Moments after hanging up, the Governor's aide was kind enough to send us pictures of his Principal chilling abroad and taking brisk strides on the sidewalk.
We'll take that over a Punch reporter's tale, thank you.
JOIN OUR PULSE COMMUNITY!
Recommended articles
Recurrent sacking of teachers in Kaduna counterproductive– Stakeholders
I've accepted to serve as Makinde's new Deputy Chief of Staff - Ojo
IGP presents N22m to families of deceased officers in Plateau
Buhari salutes Speaker Femi Gbajabiamila at 60
Visit Delta to see my achievements, Okowa berates critics
Tinubu praises Sanwo-Olu at 57
Customs impounds 2,820 donkey skins worth N48m in Kebbi
Board secures accomodation for 2,264 Nigerian pilgrims in Saudi Arabia
Deputy Senate President rewards heroic tanker driver with N1m