Reps have no right to call Baba "grandfather of corruption"
Rather than address the substance in Obasanjo's allegations, lawmakers attacked the messenger instead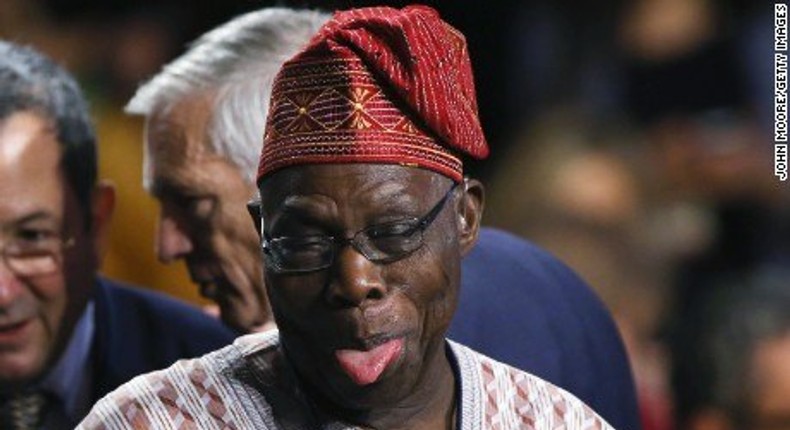 Former President Olusegun Obasanjo is certainly no candidate for the Sainthood.
But getting into a fight with him in the manner the House of Representatives did, was unnecessary and childish.
It all began when Obasanjo called lawmakers a bunch of very rotten and corrupt people. The old man certainly asked for it.
"Once you are a member (of the National Assembly), you are co-opted and your mouth is stuffed with rottenness and corruption that you cannot opt out as you go home with not less than N15m a month for a senator and N10m a month for a member of the House of Representatives", Obasanjo said.
Obasanjo had a few more damning words in his locker for members of parliament.
"If the judiciary is being cleaned, what of the National Assembly which stinks much worse than the judiciary? Budget padding must not go unpunished. It is a reality, which is a regular and systemic practice. Nobody should pull wool over the eyes of Nigerians. Ganging up to intimidate and threaten the life of a whistle-blower is deplorable and undemocratic.
"These constituency projects are spread over the budget for members of the National Assembly for which they are the initiators and the contractors directly or by proxy and money would be fully drawn with the project only partially executed or not executed at all. The National Assembly cabal of today is worse than any cabal that anybody may find anywhere in our national governance system at any time".
Those were strong words from Baba Iyabo.
But was he right, though? Do members of the National Assembly corner monies meant for constituency projects? Do they pad budgets? Do they go home with N15m and N10m monthly?
Is the National Assembly a"Den of corruption run by a gang of unarmed robbers?''
None of Obasanjo's allegations were addressed in that very watery response from the House signed by Chairman of the House Committee on Media and Publicity, Hon. Abdulrazak Namdas.
"Lest we forget, the person who introduced corruption to the National Assembly is Chief Olusegun Obasanjo. He birthed the 4th Republic National Assembly with corrupt practices from day one", the statement from the lawmakers read.
"Have we forgotten the sacks of money displayed on the floor of the House of Representatives being bribe money paid by Chief Olusegun Obasanjo to some Honourable members to impeach Speaker, Rt. Hon. Ghali N'abba?
"The list of his corrupt acts while in office is endless. Unquestionably, he is the greatest corrupt person ever to hold office in Nigeria. He remains the grandfather of corruption in Nigeria and lacks the moral authority to discuss corruption or indeed abuse of office in Nigeria as he remains the most corrupt Nigerian on record."
As stated earlier, Obasanjo isn't altogether clean as a whistle. He knows he can't be venerated for his time in office.
Obasanjo's source of wealth during his Presidency still can't be rationally explained. He built a library while disregarding conflict of interest concerns. He distributed money in Ghana-must-go bags to lawmakers to drive home his third term ambition. But like every other Nigerian concerned about what our National Assembly has become, does he have a right to be pissed or to air his views?
What should have been an opportunity for lawmakers to clear their names in the court of public opinion, was pitiably reduced to a theater for mud-slinging and ad hominem attacks.
There's really nothing new in what Obasanjo said. For years, Nigerians have been expressing similar concerns publicly and privately about their elected representatives. Are they all "grandfathers of corruption" too?
Hopefully, Mr. Namdas will pen another press statement as quickly as he did the first, addressing some of Obasanjo's major talking points.
It's easy to win an argument by throwing more mud in the arena. But you really win a war by sticking to the points raised in an argument.
JOIN OUR PULSE COMMUNITY!
Recommended articles
Air travelers urge Tinubu to transform aviation industry
NIS will focus more on passport insurance, staff welfare – new CG
Adeyanju urges Tinubu to appoint young Nigerians as Ministers
Risk management in indices trading: Tips and tools for managing your exposure
Tunubu lauds people of Zamfara for ensuring his biggest win
You're now a blogger —  Shehu Sani mocks 'retired governor' El-Rufai
Gov. Eno appoints SSG, CPS
Gov. Sani retains El-Rufai's appointees as top government officials
Gov. Diri warns fuel marketers against hoarding, profiteering as price hits ₦‎600