Group calls MEND political thugs
The Niger Delta Avengers (NDA) says the Movement for the Emancipation of the Niger Delta (MEND) are political thugs.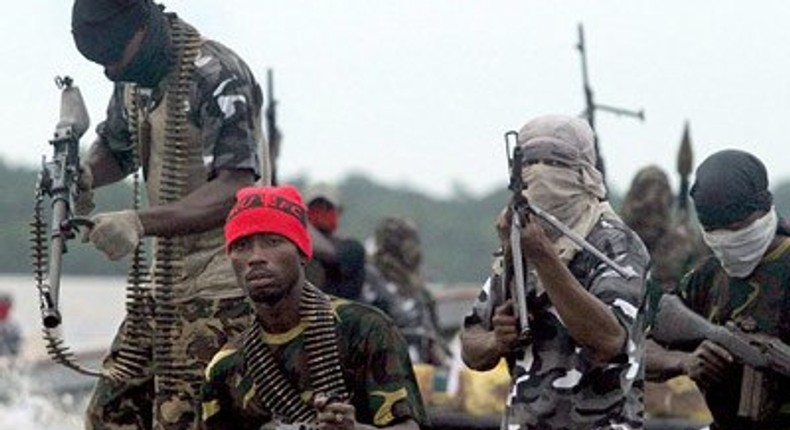 NDA also accused Emami Ayiri of plotting to derail the Niger Delta struggle.
The militant group issued a statement titled: Niger Delta struggle is not for political thugs.
The group's spokesman, Brig. Gen Mudoch Agbinibo who signed the statement said "We are watching with keen interest the unwholesome activities of the political thugs and agents of APC to undermine the Niger Delta struggle in the likes of Mr. Ayiri and gangs.
"Few days ago, he and his group was parading, regrouping, rebranding and re-arming defunct Ex-MEND and settled Militants leaders discussing pipelines, oil and gas facilities contract in Edo State Government house. Today he and his co-travelers are in delta state Government house, the Itsekiri Militants leader with community leaders and unfortunately branding them as representatives of Niger Delta Avengers for self-gain and political survivals.
"We condemn its entirety the continuous linking of the Niger Delta Avengers to any meeting in Delta State Government in Asaba with Minister of State for Petroleum Resources.
"We have never missed words in telling the whole listening world that the Niger Delta Avengers will not be part any dialogue deal that will not bring about " the peace of our time; but we want a peace with honour" as such we could not be a party to any meeting with the likes of Ayiri Emami and his co- travelers that that are ready to kill and trade for the interest of pipeline, oil and gas facilities contract from the Government to bloat their pockets and urge fantasies ."
JOIN OUR PULSE COMMUNITY!
Recommended articles
Atiku group fires back as Obasanjo admits mistake in picking running mate
Nigerian lady offers her kidney to save Ekweremadu's daughter
US police found missing ex-Nigerian diplomat dead
Obasanjo tutors students on need to imbibe religious tolerance
Traders in tears as flood washes away 30 shops in Anambra Market
FG to issue licences to successful marginal field awardees Tuesday
NDLEA arrests 16 females, 261 other drug suspects in Gombe
Academic certificates: You're PDP agents, Tinubu Campaign Organisation replies group
I'm proud of our youths excelling at home, abroad, says Buhari in Rwanda