22 confirmed dead in suicide blast
The explosion was said to have been caused by two female suicide bombers who were disguised as men.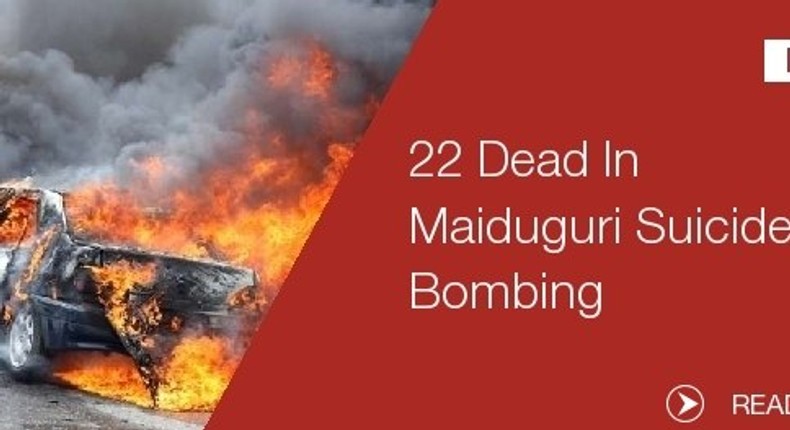 22 people have been confirmed dead in Borno State following
The casualty figure had earlier been put at 14 but has now been increased.
"This morning just before prayers two women disguised as men came by the mosque," a source at the Borno State Emergency Management Agency told AFP.
"One of them went in and joined the first row of the congregation and when the worshippers stood up for the prayers she detonated her explosives, killing several worshippers.
"While the others were trying to flee, the second woman who stood outside the mosque rushed in and set off her explosives in their midst. Rescue is still ongoing but so far 22 people have been confirmed dead and 35 others injured," the source added.
The explosion occurred in Umarari Village along the Biu-Maiduguri highway and is the first to be recorded in Borno since the blast which occurred at an Internally Displaced Persons (IDP) camp in Dikwa on February 9, 2016, and left more than 60 people dead.
----------------------------------------------------
See Pulse Photo-News gallery below:
JOIN OUR PULSE COMMUNITY!
Recommended articles
PoS surcharge: Operators allege bank officials sell cash to them
Chaos in Ibadan as residents protest over naira and fuel crisis
Buhari begs Nigerians to give him 7 days to resolve new notes crisis
What is a run-off election and how is it conducted?
Ortom accuses Sanusi, other Fulani elites of plotting to eliminate him
APC Governors meet Buhari
So far, Buhari is giving right signal for credible elections– Organisation
We will end brain drain in medical profession – Makinde
FG evacuates 1,531 Nigerians from Ukraine