7 Things you should know as Justice Ngwuta is arraigned
Justice Sylvester Ngwuta has just had his first day in court. Here's your quick guide to what's going on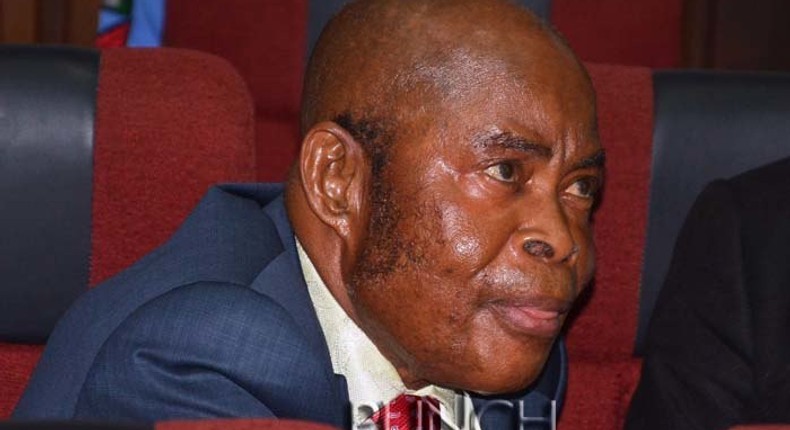 Justice Sylvester Ngwuta of the Supreme Court just had his first day as an accused in a courtroom.
Here are five things you need to know about what just happened:
1. Ngwuta is one of a handful of Judges picked up in October by Department of State Service (DSS) personnel.
He is being arraigned by the federal government on charges bordering on money laundering and corruption.
2. The prosecution has proffered 16 counts bordering on corruption, against Ngwuta.
The Supreme Court Justice pleaded "not guilty" to all charges.
3. Ngwuta was also accused of breaching passport laws.
According to the prosecution, when the DSS raided Ngwuta's home on October 8, 2016, its operatives discovered that the Supreme Court Justice possessed two valid Diplomatic Passports and two other valid Standard Nigerian Passports.
Possession of multiple passports with falsified dates of birth contravenes various provisions of the Immigration Act 2015.
4. According to one of the charges, Ngwuta transferred the sum of N505m to a building contractor, Nwamba Linus Chukwuebuka, between January and May 2016.
According to the prosecution, the amount was denominated in U.S Dollars.
5. After various sums of money were found in Ngwuta's apartment, the Judge couldn't explain how he got the money.
6. Justice Ngwuta is being tried by Justice John Tsoho of the Federal High Court in Abuja--a subordinate; junior Judge.
7. Other Judges arrested by the DSS in October will soon have their days in court, Presidency sources have told
They include: Justice Inyang Okoro – Supreme Court Judge; Justice Mohammed Tsamiya – Justice of the Court of Appeal, Ilorin Division; Justice Kabiru Auta – Kano State High Court; Justice Adeniyi Ademola – Federal High Court, Abuja; Justice I. A. Umezulike – Former Chief Judge of Enugu state and Justice Muazu Pindiga of the Federal High Court, Gombe Division.
JOIN OUR PULSE COMMUNITY!
Recommended articles
Deborah's death 'll not be tolerated, says northern Christian body
2023: Tambuwal promises to end religious differences
Deborah's parents say their children won't attend school again
Lagos govt begins rehabilitation of sex offenders
I won't take my unopposed senate ticket for granted — Sen. Bamidele
Police arrest 4 persons over alleged jungle justice in Lagos
Tinubu mourns UAE president, Al Nahyan, says he is great reformer
Wike recalls how Justice Odili saved his political career
Gov Emmanuel didn't bar Atiku from meeting delegates - Akwa Ibom govt